Abortion Patient Death Prompts Third License Suspension

June 5, 2013
From Operation Rescue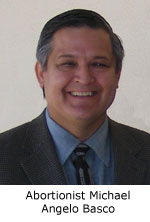 Baltimore, MD - Operation Rescue has learned that The Maryland Board of Physicians has suspended the medical license of a third abortionist associated with the notorious Steven Chase Brigham after abortion patient Maria Santiago died in February, 2013.
Michael Angelo Basco was summarily suspended from practicing medicine in Maryland on May 29, 2013, the same day two of his associates, Iris E. Dominy and Mansuor G. Panah, were also issued suspensions. All four Marylandabortion clinics operating under the name Associates in OB/GYN Care, which is affiliated with New Jersey abortionist Steven Chase Brigham, were ordered to stop all surgical abortions on May 9.
"Basco is an abortionist that had been flying under the radar," said Troy Newman, President of Operation Rescue. "Now, the public can be warned about this dangerous man who has a history of discipline and lawsuits in other states."
---
Mobile ultrasound aims to reach abortion-vulnerable women
Denver, Colo., Jun 4, 2013 / 06:03 am (CNA/EWTN News).- A network of pro-life pregnancy centers in Colorado is the latest to take to the streets with a mobile ultrasound unit that it hopes will help women choose life and reject abortion.

"We want to go to where the women are in their daily routines. Instead of waiting for women to find us, we'll find them," said Rick Thielen, executive director of the Longmont, Colo.-based Life Choices.

"We'll meet them where they are, and hopefully show them that what they are really carrying is life, and isn't just a mass of tissue as pop culture wants to tell them."

Life Choices' new ultrasound unit, housed in a large recreational vehicle, aims to provide free ultrasounds in zip codes with a high proportion of women more likely to undergo abortions. The organization gave a tour of the vehicle outside its new affiliate's offices in Westminster.

"Our target is the abortion-determined women, who may already have an abortion scheduled," Thielen told CNA May 31.

He reported that in general, about 70 percent of these women change their minds after viewing an ultrasound, while about 87 percent of women who are unsure whether to have an abortion will choose to carry their babies to term.

The new mobile unit will have a paid nurse manager to oversee the trained volunteer nurses who perform the ultrasound procedure. Ultrasounds will be electronically transmitted to a doctor for review and referral.

The vehicle will also provide free pregnancy tests and host trained volunteer advocates from local pro-life pregnancy centers to help assist the women and provide them with the resources they need.

Life Choices purchased the vehicle from Image Clear Ultrasound Mobile, an Ohio-based Christian organization. The organization designed and built the recreational vehicles and developed the system for targeting zip codes with a high number of women who choose abortions.

"We go into that zip code and look for locations that are visible. Shopping centers are good ones," Thielen said.

The statistical system also helps Life Choices evaluate its success and whether it needs to change location to attract more women considering abortions. However, the system tends to be less reliable for reaching college students, who typically use their home zip code on reporting forms.

Schedules announcing the free ultrasounds will be posted in places like bars, laundromats and restaurants in the north Denver metro area and in other major towns and cities of Colorado.

The ultrasound vehicle's inaugural Colorado tour has already attracted two pediatricians who have volunteered to treat uninsured patients without charge. Twenty-one nurses attended the first training session for the vehicle.

Life Choices, which has five centers in northern Colorado, wants to partner with "any Christ-exalting church" to help bring the free ultrasound unit into local communities.

Thielen said the organization already works with well over 200 churches in Colorado. "Churches are our lifeblood," he noted.

The organization hopes to work with the Lighthouse Pregnancy Center, operated by Catholic Charities of the Archdiocese of Denver near the major Planned Parenthood abortion clinic in Denver. Life Choices especially hopes to use its new vehicle to provide counseling services there on Saturdays, when few pro-life pregnancy centers are open.

Image Clear Ultrasound Mobile has helped provide over 30 ultrasound machine vehicles in operation across the U.S., Thielen said. The vehicle numbers could increase to 55 by the end of 2013.

Life Choices has budgeted $60,000 to pay for its ultrasound vehicle each year, though the budget is dependent on gas prices. The organization also hopes to purchase another vehicle to use in Colorado.

The pregnancy center network will give tours of its vehicle Oct. 4 at the Budweiser Event Center in Loveland, Colo., as part of a fundraiser with former Republican presidential candidate Rick Santorum.

Life Choices describes itself as a "Christ-centered ministry," and Thielen said the organization has a religious motivation in reaching out to women."The most important thing is that we get to share the Gospel," he said.

"If they want to talk about that great, if not, that's great too. Usually it starts with a simple question: 'can we pray for you'?"

Even if clients go through with an abortion, Thielen added, Life Choices will tell them "We're here for you."

"Because we know what they're going to go through. We want them to know that we still love them, that we care for them, no matter what their decision is," he said.

"They can come on back, and we'll be there in the future."
---
From the Knights of Columbus re: HR 940
Dear Brother Knight:
On August 1, people of faith, family-owned businesses, and charitable institutions will be forced to pay for sterilizations, contraceptives and abortion-causing drugs in violation of their deeply held religious beliefs and moral convictions. This development comes as a result of a Department of Health and Human Services mandate that requires all of these objectionable interventions be included in every health insurance plan, with very few narrow exceptions.
People of faith must send a clear message to Congress that they support religious freedom and rights of conscience. Representative Diane Black of Tennessee has introduced the "Health Care Conscience Rights Act," (H.R. 940), which protects individuals and organizations from being forced to violate their religious beliefs or moral convictions. Please act today to contact your elected representatives.
Time is running short for Congress to protect the conscience rights of all Americans. Our representatives will respond if they hear from us that religious freedom is a right. Encourage your fellow parishioners, friends and family to contact Congress. As Knights we should do everything possible to ensure that Americans do not lose their cherished right to religious freedom.
---
FOX News Channel Documentary: "See No Evil - The Kermit Gosnell Murders"
April 30, 2013

Dear Friends,

I informed you recently of the FOX News Channel documentary "See No Evil – The Kermit Gosnell Murders."

Please note that the date on that has now been moved up to this Friday, May 3, at 9pm.

Thank you for anything you can do to spread the word about the documentary and the new date for it. The more people who watch this, the more the true face of abortion is exposed, and the stronger our case that when secular media cover these topics, people respond!

The Facebook event that we have set up for this documentary is Facebook.com/events/564620810244408/.

Thanks!



Fr. Frank Pavone

PS – I was in the courtroom yesterday for the closing arguments and will put more info on my blog later at FrFranksBlog.com!

Priests for Life
PO Box 141172
Staten Island, NY 10314
Phone: 888-PFL-3448
718-980-4400
Fax: 718-980-6515
Email: mail@priestsforlife.org
www.PriestsForLife.org
---
President Obama radically endorses the work of Big Abortion. On Friday, I was invited by FOX News to their headquarters to watch the President's speech and respond. While I was working to defend LIFE, President Obama flagrantly flaunted his support for Big Abortion by being the FIRST sitting President to address Planned Parenthood's national conference in Washington, D.C.
His disturbing address to our country's largest abortion provider came right in the middle of the trial of Kermit Gosnell, the Philadelphia abortionist on trial for homicide and infanticide. What kind of message is the President trying to send?

Telling the crowd, "when it comes to your patients, you have never let them down," President Obama callously ignores the deaths of numerous women at the hands of Big Abortion.
What about Karnamaya Mongar, the mother and wife who had survived 20 years in a refugee camp only to die in Gosnell's clinic?
What about Tonya Reaves who bled for five hours at Planned Parenthood's flagship clinic in Chicago, before being sent to an emergency room when it was too late to save her life?
Americans United for Life is working with state legislators across our country to enact laws that would regulate abortion clinics with the standards of care that women deserve, and our work is making an impact for LIFE. In 2013 alone, 17 states are considering greater regulation of abortion providers.
Friends, this profoundly pro-abortion President will stop at nothing to maintain his friendship with an industry that prides itself on extinguishing life.
The President called for conference attendees to "reach out to young women" and "tell your children about the services provided at Planned Parenthood." Planned Parenthood performs one abortion every 94 seconds. That is the true service provided.

Join us in telling President Obama and the abortion industry - LIFE IS WORTH THE FIGHT!

Until all are welcomed in life and protect in law,


Charmaine Yoest, Ph.D.
President & CEO
Americans United for Life
---
911 Recordings Reveal 3 Planned Parenthood Patients Suffering Serious Abortion Complications
Orange, CA - Operation Rescue has obtained recordings and Computer Aided Dispatch Transcripts for four 911 calls placed from a single Planned Parenthood in Orange, California, three of which were made on the same day seeking emergency transport for patients suffering complications from an abortion and one employee experiencing from chest pain.

Planned Parenthood 911-3 Medical Emergencies in Orange, CA
The records raise additional questions concerning patient safety of Planned Parenthood and other abortion clinics across the nation. Operation Rescue has documented 22 medical emergencies occurring at abortion clinics nationwide since January 1, 2013. This includes five medical emergencies at a Planned Parenthood in Wilmington, Delaware, which later fired its abortionist and closed down for "cleaning" after public outcry erupted. "There simply is no such thing as a 'safe and legal' abortion clinic," said Troy Newman, President of Operation Rescue and Pro-Life Nation. "Women are injured or killed, and babies die as a matter of course in our nation's abortion clinics and we have yet to find one that obeys the law on all points. Health and safety violations are rampant at abortion clinics, and Planned Parenthood is certainly no exception." The records show that on February 22, 2013, three calls to 911 for emergency help were placed from a Planned Parenthood surgical abortion clinic located at 700 S. Tustin Ave., in Orange, California.

The first of the three calls that day was placed at 7:28 am reporting that a 44-year old employee was suffering from angina and chest pain. Her color was turning pale. A nurse was present, but no doctor was on the scene. She was transported to the hospital at 8:09 am.

The second call was placed at 12:31 pm indicating that a 34-year old patient was suffering from seizures and convulsions. She had fallen out of a wheelchair and was "foaming through the mouth" according to the Planned Parenthood employee who placed the call. The ambulance was cancelled by abortionist John Paul McHugh, who told the emergency dispatcher that they would hold on to the patient and observe her condition.

At 6:00 pm, a third call was placed from the same Planned Parenthood abortion clinic. By this time, the dispatcher readily recognized the address as belonging to Planned Parenthood. The caller reported a medical emergency with another 34-year old patient, who possibly could have been the same patient who suffered the seizures earlier in the day. This time, the reported condition was hemorrhage and lacerations. The patient suffered an altered state of consciousness, according to poorly redacted CAD transcripts, was alert on and off, and was experiencing abnormal breathing. Her blood pressure was dropping and Planned Parenthood workers were starting to administer oxygen. Emergency workers transported her to the hospital emergency room at 6:24 pm.

"It appears that the abortionist on duty, John McHugh, was having a very bad day," said Troy Newman, President of Operation Rescue and Pro-Life Nation. "From the descriptions on the record, this last patient was very close to bleeding out from some kind of laceration inflicted on her during her abortion."

But that was far from the end of Planned Parenthood's problems.

On May 9, 2013, at 3:34 pm, a Planned Parenthood employee placed a call to 911 seeking transport to University of California-Irvine hospital emergency room for a 26-year old second trimester abortion patient suffering from hemorrhage and lacerations. The patient was transported to the hospital at 3:59 pm. Second trimester abortions are usually 2-3 day procedures and involves the dismemberment of the baby. Laceration and hemorrhage are common complications from this abortion process, which is done blindly by the abortionist and involves grasping and pulling motions that require force due to the advanced development of the baby.

Operation Rescue has documented four other medical emergencies at the Planned Parenthood in Orange. Those incidents took place on February 18, 2013, and September 16 and 29, 2009. "Planned Parenthood needs to close this dangerous abortion mill down," said Newman. "They pretend to care about women, but their actions - including a steady stream of ambulances rushing patients to the emergency room - speak louder than words."

Please contact the Orange County Health Department and demand an immediate site inspection of Planned Parenthood located at 700 Tustin Ave., Orange, CA.

Orange County Health Department Site Mitigation:
Voice: 714-433-6262
E-Mail: ssundaram@ochca.com
View Planned Parenthood of Orange's profile page at AbortionDocs.org to view the CAD transcripts.
---
Florida Abortionist Pendergraft's License Suspended for Fifth Time
April 22, 2013
By Cheryl Sullenger

Orlando, Florida - The Florida Board of Medicine took action to suspend the medical license of late-term abortionist James Scott Pendergraft, IV on Friday after he failed to pay the Board fines from a previous disciplinary action that totaled over $120,000. The settlement agreement reached between the Board and Pendergraft orders that his medical license "shall be indefinitely suspended until such time as [Pendergraft] complies" with the order to pay his fines. This is the fifth time that Pendergraft's medical license has been suspended by the Florida Board of Medicine. He continues to operate five abortion clinics in Florida, primarily in the Orlando area. The fines resulted from a 2010 case where Pendergraft was heavily fined and placed on suspension related to a 2006 botched elective 19-week abortion. Patient S.B went to Pendergraft for the second trimester abortion on Feb. 3, 2006. He prescribed doses of Cytotec, a drug that is known to cause severe and unpredictable uterine contractions and sent her home for three days to take the medication on her own. Pendergraft did not have a valid DEA number at the time. When S.B. returned to the clinic, he further illegally administered doses of Cytotec, Demerol, and Phenergan. He attempted the abortion before the patient was adequately dilated, lacerating her cervix and sending her to the hospital where she underwent an emergency hysterectomy. At the hospital, staff delivered the remains of S.B.'s baby and found that it was missing a lower limb. Efforts were made to locate the limb in the abdominal cavity to no avail. There were no indications on the patient's chart. Later, it was discovered that the limb had been removed at the clinic. This lack of documentation caused issues in providing the patient with proper emergency care.

Pendergraft was suspended and ordered to pay fines in excess of $122,000. Pendergraft failed to pay, resulting in another disciplinary case attempting to seek payment. Finally, Friday's action suspended his license until further notice. Pendergraft has a long history of abortion abuses. An Operation Rescue undercover investigation discovered that he was working illegally in Maryland with another abortionist Harold O. Alexander, to offer late-term abortions while his license was under suspension in Florida and filed complaints. Alexander was later disciplined for destroying patient records related to his business with Pendergraft, closing down Pendergraft's Maryland operation.

In 2011, Pendergraft was hit with a whopping civil medical malpractice judgment of $36,737,660.16 in compensatory and punitive damages in a case involving a botched 20 week abortion that resulted in the live birth of a child physically damaged by Pendergraft's incompetent abortion process amid what was described as "third world conditions" with virtually no counseling.
"Pendergraft is a prime example of how an abortionist operating outside the law in a manner that is reminiscent of the Kermit Gosnell murder case. He is proof that Gosnell is not an outlier, but is a snapshot of degenerate nature of the abortion cartel in America today," said Troy Newman, President of Operation Rescue. "Pendergraft belongs in prison just as much as Kermit Gosnell, but the reticence of the Board to revoke his license means he will be back to wrecking more havoc on women. People wonder how Gosnell continues to operate for so long, but the Pendergraft case explains it. Oversight agencies are just too slow to revoke abortion offenders."

More about Pendergraft's sordid background can be found at AbortionDocs.org.
---
FEDERAL ALERT-Protect Rights of Conscience & Religious Liberty
Please contact your Representative today!

The Obama Administration's contraceptive/abortifacient/sterilization mandate will begin to be enforced against nonprofit religious schools, charities and health care providers on August 1. In the days to come, Congress must decide whether to address this problem through must-pass legislation before that deadline.

Members of the House should be urged to include the Health Care Conscience Rights Act (H.R. 940) in the next bill needed to keep the federal government operating.

See Fact Sheet for HR 940.

Please act today to protect conscience rights and religious liberty Click here!
---
Planned Parenthood Workers Tell of Gosnell-Like Conditions at Clinic that Injured Women
Clinic temporarily closed and abortions halted for now!
April 10, 2013
Wilmington, Delaware - The same Planned Parenthood abortion clinic where a grandmother was attacked earlier this year while documenting a botched abortion operated under similarly unclean and dangerous conditions as those that existed at Kermit Gosnell's Philadelphia "House of Horrors" according to two former nurses who have now come forward to tell what they saw. [Watch the Special News Report Video]

So far, one abortionist and two employees have left Planned Parenthood in Wilmington, Delaware, as a result of the scandal over five botched abortions since January 4 and filthy practices. The clinic is now under the investigation of the Delaware Department of Health and Social Services and the Delaware Board of Medical Licensure and Discipline.

Jayne Mitchell-Werbrich and Joyce Vasikonis told WPVI-TV of a "meat-market style of assembly-line abortions where the abortionist refused to wear gloves, surgical instruments were reused without being cleaned, and "bloody drainage" remained on abortion tables between procedures, exposing women to blood-borne diseases."

"It was just unsafe. I can't tell you how ridiculously unsafe it was," said Mitchell-Werbrich. "Planned Parenthood needs to close its doors, it needs to be cleaned up, the staff needs to be trained."

She also worried that that women could be at risk of contracting hepatitis or AIDS.
The clinic was closed to patients yesterday as it underwent a "routine cleaning." It has temporarily stopped providing surgical abortions.

"This is the same behavior of cover-up that Kermit Gosnell engaged in. After Karnamaya Monger was killed during an abortion, he had the clinic cleaned and painted. But it didn't take long before it was back to its previous squalid condition," said Cheryl Sullenger, Senior Policy Advisor for Operation Rescue.

Gosnell's clinic also subjected women to dirty surgical instruments and made them lay on bloody, abortion tables that were not cleaned between patients, just as the Planned Parenthood clinic has done. In fact, Gosnell spread venereal disease between patients through this dangerous practice, just the thing feared by the two former Planned Parenthood nurses.

"This is another example of how the conditions described at Gosnell's House of Horrors exist as a matter of routine in abortion clinics around the country," said Sullenger.
Mary Peterson of the Delaware Department of Health and Services indicated that they rarely inspect abortion clinics in that state. "I'm not going to lie to you, we don't have the manpower to do routine inspections," she said.

"As long as the authorities neglect their duty to protect the public, these kinds of horrific conditions will continue to endanger women at Planned Parenthood and other abortion clinics there," said Sullenger. "Protecting the public health is the primary duty of the Department of Health. It's unbelievable that it could claim it is incapable of doing its job. It sounds like there needs to be a housecleaning at the Department of Health as well as the abortion mill."

Operation Rescue was the first to obtain and publish 911 calls of two botched abortion incidents on February 3 and 16 at the Wilmington Planned Parenthood. Operation Rescue also published video taken by Rae Stabosz of a woman attacking her outside the same facility as she courageously documented another medical emergency incident with her cell phone on March 13. That incident drew attention to the abortion abuses at the Wilmington Planned Parenthood clinic and resulted in the news report exposing dangerous practices there.

---
Urgent: Last call to contact the Administration regarding the contraceptive / abortifacient / sterilization mandate!
Dear Friend:
If you haven't done so yet, please email a short comment to the Obama Administration opposing the latest version of the contraceptive /abortifacient /sterilization mandate. Comments are due this Monday, April 8!
It only takes two minutes to explain to the Administration why its latest "proposed rule" still violates religious freedom and rights of conscience. Yet it is very important that you make your voice heard!
To learn more about the Administration's latest proposal, please check out our one-page fact sheet and pass it along to others.
If you'd like to read more, please see the USCCB's news release and full set of comments on the latest (but largely unchanged) proposal from the Administration.
Please file your comments with the Administration today!
The deadline is Monday, April 8.
Encourage others who support religious freedom and conscience rights to do the same! According to news reports, over 140,000 comments have been filed with HHS so far - the majority from people concerned about religious freedom! Thank you to those of you who have already filed comments. We are grateful for all that you do in support of life and liberty.
United States Conference of Catholic Bishops
P.S. Please forward this action alert to friends and family who share your concern about conscience rights and religious liberty.

Text the word FREEDOM (or LIBERTAD) to 377377 for mobile updates on religious liberty.
---
HELP US END THE KILLING OF BABIES BORN ALIVE IN ABORTION MILLS!
April 2, 2013
What does Planned Parenthood say should happen to a baby who is born alive after a failed attempt to abort the child? "We believe that any decision that's made should be left up to the woman, her family, and the physician."
Those were the words of a Planned Parenthood representative just last week!
Yes, this is hard to believe, so go ahead and read those last few sentences again if you need to.
Then I want you to hear for yourself this incredible response by watching a short video.
Here's the background. The State of Florida is working to pass a bill that would protect babies after they are born as a result of a failed abortion attempt.
We already have this law on the federal level. It's the "Born-Alive Infants Protection Act."
But states still need to pass it on the state level, which is what Florida is doing now.
As part of the legislative testimony for this bill, a Planned Parenthood lobbyist named Alisa LaPolt Snow spoke the other day in the Florida legislature. And she was asked this question:
"If a baby is born on a table as a result of a botched abortion, what would Planned Parenthood want to have happen to that child that is struggling for life?"
And her answer was what you read above…it should be left to the family and the doctor to decide.
Unbelievable. That's what we're dealing with in Planned Parenthood, in abortion clinics nationwide, and in the radical "prochoice" mentality.
So please click here to see this testimony for yourself and then to contact the Florida legislature to urge them to pass the bill protecting such children!
Fr. Frank Pavone
National Director, Priests for Life
---
HELP US CLOSE AN OUT OF CONTROL DELAWARE ABORTION MILL!
March 25, 2013
I recently spoke with pro-life activist Rae Stabosz.
She was praying outside the Planned Parenthood abortion mill in Wilmington, DE on March 13 and encountered a woman who was suffering complications from an abortion she had there on March 8. Rae persuaded her to go to the hospital.
Doctors found a leg and foot of the baby still inside her, and she required additional surgery.
Later in the day, at the same Planned Parenthood, Rae saw an ambulance pull up.
Another medical emergency was in progress at the Planned Parenthood "clinic."
Rae began to film it on her phone, and someone from inside the mill came out and attacked her, knocking her to the ground.
At this same abortion mill, two other medical emergencies had occurred, one on February 8 and the other on February 16.
As I have said time and time again, though abortion is legal, malpractice is not, and we can close these killing centers down if we monitor their activity and then rise up in protest when these incidents occur.
Please join me, then, in urging the State of Delaware to close this mill!
When there's practically one medical emergency a week at a legal abortion mill, an investigation is certainly warranted here by the Delaware Board of Medical Licensure and Discipline.
So please click here to send an email to the authorities in Delaware who can put an end to this maiming of women along with their babies!
Fr. Frank Pavone
National Director, Priests for Life

---
HELP US GET THE STRONGEST PRO-LIFE BILLS IN THE NATION SIGNED INTO LAW!
March 21, 2013
Dear Supporter for the Sanctity of Life,
I need your help today to get the strongest pro-life bills in the nation signed into law!
The Governor of North Dakota is about to receive two bills on his desk. He is pro-life, and those close to him think he will sign them.
But the pro-abortion forces are going to put tremendous pressure today and in the next few days to get him not to sign them.
That's why I'm mobilizing our forces to act quickly, today, to contact him either by phone, fax, or email, to encourage him to enact these bills into law.
We need to act today, because he could sign or veto these bills at any moment.
The legislators of North Dakota have passed the strongest pro-life bills in the nation.
The "Heartbeat Bill" would prohibit abortions of a baby with a detectable heartbeat.
The second bill would prevent abortions done for sex selection or fetal abnormality (like Down Syndrome.)
A baby's heartbeat can be detected around 6 weeks.
And as for Down Syndrome, somewhere around 80% of unborn children diagnosed with this condition are killed!
So these laws are needed.
Again, the Governor is pro-life.
But some are making the argument that because the pro-abortion crowd would challenge these laws in Court, the state would spend too much money in legal fees.
But we say,
If the people of North Dakota want to protect their unborn children, let the fight begin!
After all, what is worth more to spend money defending than life itself!
And a victory in North Dakota on these bills will inspire other states to enact them as well. This has national implications, which is why people from every state are being invited to do this.
So please click here to help us encourage the Governor to sign these into law.

Sincerely,
Fr. Frank Pavone
National Director, Priests for Life

---
Final 40 Days for Life Recap- Indianapolis Campaign
March 24, 2013
Greetings!

Today is the last day of the 2013 spring 40 Days for Life - Indy campaign. As we enter Holy Week, please remember that we will make Good Friday Pro-life by having the Stations of the Cross for Victims of Abortion this Friday at Noon in front of Planned Parenthood, 8590 Georgetown Rd, Indianapolis 46268.

Final Message and No Closing Event Today
A huge "thank you" is extended to Jim Recasner and his committee for all they did to make this campaign successful. Participants from more churches of all faiths helped plan and were actively involved this spring.

Although there is not closing event today, you are invited to pray with us until 6 PM today. Father Chris Roberts, Parochial Vicar at St. Alphonsus Liguori Church in Zionsville, will lead us in prayer at 3 PM today and Ron and Mary Kramer will lead the stations of the cross at 5 PM.


I asked Jim Recasner to write a final note to summarize our efforts:
Good Palm Sunday afternoon. Today marks the close of the 2013 international 40 Days for Life spring campaign. Indianapolis is under a winter storm warning for today and overnight. Significant snow and wind are expected this afternoon. Under these circumstances, we will not hold a closing "event" for the spring campaign.

We have had truly challenging weather this campaign. This past week, we had days when the highs hovered around freezing and were more than 50 degrees below the highs for the same dates last year. The Polar Bear awards go to Mark Folger and Greg Breese, along with whoever else was present at the prayer vigil early the morning of February 20th when the wind chill dropped to 2 below. Many of you experienced conditions that were not much better.

We had a great turn out for the kick-off back on February 10th, a joyous and moving mid-point youth rally and a family-oriented, spiritual Latino gathering yesterday afternoon. At least twelve clergy led us in prayer during this campaign, some on more than one occasion. Most significant, there were at least 12 saves during the campaign.

Though not a part of the 40 Days for Life campaign, you are invited to join us for a Way of the Cross for Abortion Victims at noon on Good Friday in front of Planned Parenthood. We will be joining others across the continent in this ecumenical event.
On behalf of 40 Days for Life, Indianapolis, and the sponsor, Great Lakes Gabriel Project, I want to thank you sincerely for all of your sacrifices and dedication to our cause. Unfortunately, we must prepare to continue and renew our efforts in a fall campaign. I ask everyone to think about what we have done this campaign, what we did well, what we can do better, and what more we can do. Please consider the three elements of the 40 Days for Life program: prayer and fasting, the peaceful prayer vigil, and community outreach. We will be calling a lessons-learned meeting in the near future. In the meantime, please e-mail me any compliments, suggestions or concerns you have. We will include them for discussion at the meeting.

Thank you again. May God bless us all. Jim
Yours for Life in Christ,
Eileen Hartman
(812) 342-9550
Executive Director
Great Lakes Gabriel Project
Indiana, Illinois, Michigan, Ohio and New York
40 Days for Life - Indy
1st Choice for Women
Little Flower Pregnancy Help Center
---
HELP US GET THE STRONGEST PRO-LIFE BILLS IN THE NATION SIGNED INTO LAW!
March 21, 2013
Dear Supporter of Life,
I need your help today to get the strongest pro-life bills in the nation signed into law!
The Governor of North Dakota is about to receive two bills on his desk. He is pro-life, and those close to him think he will sign them.
But the pro-abortion forces are going to put tremendous pressure today and in the next few days to get him not to sign them.
That's why I'm mobilizing our forces to act quickly, today, to contact him either by phone, fax, or email, to encourage him to enact these bills into law.
We need to act today, because he could sign or veto these bills at any moment.
The legislators of North Dakota have passed the strongest pro-life bills in the nation.
The "Heartbeat Bill" would prohibit abortions of a baby with a detectable heartbeat.
The second bill would prevent abortions done for sex selection or fetal abnormality (like Down Syndrome.)
A baby's heartbeat can be detected around 6 weeks.
And as for Down Syndrome, somewhere around 80% of unborn children diagnosed with this condition are killed!
So these laws are needed.
Again, the Governor is pro-life.
But some are making the argument that because the pro-abortion crowd would challenge these laws in Court, the state would spend too much money in legal fees.
But we say,
If the people of North Dakota want to protect their unborn children, let the fight begin!
After all, what is worth more to spend money defending than life itself!
And a victory in North Dakota on these bills will inspire other states to enact them as well. This has national implications, which is why people from every state are being invited to do this.
So please click here to help us encourage the Governor to sign these into law.
Sincerely,
Fr. Frank Pavone
National Director, Priests for Life
P.S. This is the type of action that Priests for Life can take nationwide as we mobilize our movement. To help make it possible for Priests for Life to conduct campaigns such as this one, please click here and be as generous as you can.
We offer various options at for you to receive different emails from the different branches of our ministry. See how you can vary your preferences or unsubscribe. Remember, we want to keep you in the loop!
---
Maryland Board Snubs 5,000 Letters Supporting Carhart Abortion Death Investigation
March 19, 2013
Baltimore, MD - Members of several pro-life groups led by Students for Life in America attempted to present the Maryland Board of Physicians (MDBP) with 5,000 letters signed by concerned citizens in support of a complaint against late-term abortionist LeRoy Carhart for the death of Jennifer Morbelli as the result of a 33-week abortion.
Two officials for the MDBP, including Executive Director Carole Catalfo, refused to accept the letters in support of the existing case and abruptly sent the group of concerned citizens away with boxes of letters still in hand. The group was told, "Public opinion doesn't matter."

"It was rude for Ms. Catalfo to dismiss the concerns of five thousand people regarding Carhart's abortion practices that cost the life of an otherwise health 29-year old woman and her viable daughter, Madison," said Troy Newman, President of Operation Rescue. "As a public servant whose duty it is to protect the public from shoddy and dangerous medical practices, one would think Ms. Catalfo would be more sensitive to the concerns of people she is supposed to protect. If she isn't interested in public accountability, maybe she is in the wrong line of work."

In addition to Students for Life in America and Operation Rescue, other coalition groups supporting the StopCarhart.com signature drive include JillStanek.com, Live Action, LifeSiteNews.com, The Survivors, and Rock for Life.

The complaint against Carhart alleges that he abandoned Morbelli and could not be reached by the family or hospital emergency staff just hours after her 33-week abortion, which caused a fatal delay in obtaining critical emergency care. It also raises concerns about the safety of the late-term abortion process in an outpatient facility where women are drugged into labor then sent off to a hotel room where they are not monitored and have no access to immediate care in the event of an emergency.

"Ms. Catalfo certainly needs to hear from pro-life supporters for the stubbing our strongly held concerns about the safety of women across the nation who travel to Maryland for late-term abortions," said Newman.

The coalition plans to extend the deadline for signing letters to April 4 with the goal of amassing as many signatures as possible to send the Board a message that we take the investigation of Carhart and the abortion-related death of Mrs. Morbelli very seriously.

Here are two things you can do RIGHT NOW:
1) Help us increase the number of signatures on our citizen compliant by 50 percent before April 4th by encouraging your friends and family members to sign on at StopCarhart.com.

2) Contact Maryland Board of Physicians Executive Director Carole Catalfo at 410-764-4780 or e-mail her at carole.catalfo@maryland.gov today to show her that 5,000 people really do care and know the facts of the case - please use the official OR complaint for reference.
Then we will go back with double the boxes and personally deliver the complaints, dropping off box after box in the reception area of the office if we have to. We will not take NO! for an answer!

We encourage those who have already signed to widely share the link StopCarhart.com with their associates, friends, and families.
---
Catholics for Life in Central Indiana Update
March 9, 2013

Greetings!

Last Thursday when Msgr. Mark Svarczkopf, pastor of Our Lady of Greenwood, came to pray with three sisters from the OLG convent and several parishioners, there was a 'save'. A young woman had accepted a brochure from Jane Pollom, a sidewalk counselor. When she drove out and let Jane know that she was not going through with the scheduled abortion, she had tears in her eyes.

A little later a man was pulling into the property and stopped to talk with Brenda Elmer, another sidewalk counselor. Ron (not his real name) was going into Planned Parenthood to answer an ad for a medical assistant. He said he had been told that Planned Parenthood helps women and the job would pay $20/hour. Brenda assured him that 'helping women' was code for aborting their babies.

Brenda called our helpline and I spoke with Ron by phone. He agreed to meet me at 1st Choice where I connected him with John Farrell for help with his resume and skills for job-hunting. Ron has five children and he and his family have recently moved in with a relative. His landlord has told him that he must move his furniture immediately or it will be thrown out.

Help Ron Move Today
If you can help provide a truck, van and/or two strong arms to help Ron with his move today, please contact me as soon as possible at eileen@goangels.org.

Training for St. Susanna Parish, Plainfield
Training for St. Susanna's Gabriel Project will be held this Saturday, March 16, 9AM - 3PM in the Gathering Space at the Church. If you plan to attend, please email Verda Redman or call her at (317) 847-3825. If you are from another church and want o attend this training, contact Anita Moody at moodyak1@yahoo.com.

Prayers for Sandy
Kathy Stadler, a sidewalk counselor at 1201 N. Arlington, met Sandy (not her real name) last week. Sandy does not want an abortion, but the father of the baby is pressuring her to get one. They left the abortion center last week, but might return. Please pray for Sandy and for her baby.

TEXT From Jim Recasner
If you are available at times to come and pray at Planned Parenthood when we need you during 40 Days for Life and if you would like to be added to Jim's texting list, please contact Jim at (317) 515-7269.

Please also let us know when you are coming to pray by signing up to pray at the Vigil Schedule online or by contacting Jim Recasner at (317) 515-7269 and he will add you to the schedule so that everyone knows it is covered.
Yours for Life in Christ,
Eileen Hartman
(812) 342-9550
Executive Director
Great Lakes Gabriel Project
Indiana, Illinois, Michigan, Ohio and New York
40 Days for Life - Indy
1st Choice for Women
Little Flower Pregnancy Help Center

---
March for Life 2013 Draws 650,000 in Support for Life!
Click here to view Maria Hernandez's, Hearts for Life volunteer, pictures as she and Mark Hosbein, president of Hearts for Life marched in Washington at March for Life 2013!
Click here to view Jill Stanek's blog on features and pictures regarding the March for Life 2013.
---
Roe v. Wade at 40
55 Million abortions performed.
---
Congressional Score Card on Pro-Life Issues
Click here to view the congressional score card on Pro-Life issues for the House of REpresentatives
Click here to view the congressional score card on Pro-Life issues for the Senate.
Click the links below to gain in-depth information on Legislative Issues concerning Life:
Unborn Victims of Violence (fetal homicide)
Human Embryos (includes human cloning)
---
Life News
Check all updates from the LifeNews.com website!
Top Stories
• On this day in 2012: Poll: Americans Oppose Obama Birth Control Coverage Mandate
• Pro-Abortion Rape Myth Debunked, 99% of Abortion Clinics Do Ultrasounds
• Ex Director: Planned Parenthood Has History of OKing Sex Trafficking
• Today in 2011: Joy Behar Calls Pro-Lifers Evil, Immoral, and Stupid
More Pro-Life News
• Rape Victim: Pro-Abortion Ultrasound Comparison Offensive
• Today in 2011: Pro-Life Leaders Mourn Passing of Bernard Nathanson
• What Would Martin Luther King, Jr. Have Thought of Abortion?
• Martin Luther King Jr's Niece Opposes Abortion as Black History Month Ends
• 10 Very Surprising Quotes From Abortion Doctors
• 55,772,015 Abortions in America Since Roe v. Wade in 1973
• Siblings of People Dying in Abortions Suffer Depression
• Abortion Methods and Abortion Procedures Used to Kill Unborn Babies
• Unborn Babies Learn Language in Womb, as Early as 30 Weeks
• Abortion Survivor Meets Nurse Who Saved Her Life
---
American Life League Update
To restore religious liberty and protect freedom of conscience, ALL has joined the Call2Conscience coalition comprised of dozens of national and state pro-life, pro-family, and pro-religious freedom organizations.
Take action: Tell your Representatives that conscience protections must be included in must-pass legislation. You see, the Obama administration has launched an assault against religious liberty and conscience by forcing organizations and businesses to pay for coverage of abortion-inducing drugs, regardless of their moral objections.
We must fight back, and the time to act is now! Congress will soon be considering must-pass legislation that will fund the federal government, and it is critical that conscience protections are included in this legislation.
Take action: Tell Congress that our religious and moral freedoms must be restored immediately. We must take a stand to ensure that all Americans are guaranteed freedom of conscience in their daily lives and work. The government has no business putting religious freedom on the negotiating table, or picking and choosing who is allowed to exercise their faith. We must fight back, and we must fight back right now.
It only takes a minute: Contact Congress. After you've taken action, please forward this e-mail to your like-minded friends and family so that they can take action too. Thank you for standing up for LIFE, conscience and religious liberty!
Sincerely,

Paul E. Rondeau, M.A.M.
Executive Director
American Life League

PS: We must fight back. Please--many people think contacting your members of Congress is a waste of time but the opposite is true. Elected officials tell us that that for every contact they get, it really means 10-20-30 people feel the same way. So, please act today.
---
National Update or 40 Days for Life - Recap
Before I take a break from email, I do want to thank you for all you've done the past 40 days … and to let you know that we are aware of … … 554 babies spared from abortion through God's mercy these past 40 days!
Those are 554 stories of children -- made in God's image and likeness -- who were so close to becoming another statistic. But because of your prayers, and your courage to be there for their moms, they have life. It is in this spirit of thanksgiving -- for their lives and our lives -- that we enter into the most important week of the year. This week we hand all of our weaknesses and doubts over to Christ, who takes them to the Cross, overcomes death ... and reminds us that with Him, all things are possible -- even ending abortion.
WHITE PLAINS, NEW YORK
Gerald was praying at the vigil in White Plains when somebody walked off with his backpack. But before he could get too concerned about that, he noticed two women heading his way – an older woman and a younger one. The older woman told him they had driven two hours from upstate New York. The young woman had an abortion appointment, but now she is "probably going to have the baby." She asked Gerald for information about pregnancy services. That information, of course, was in Gerald's backpack. But he passed along two pro-life pregnancy hotline numbers that he knew, as well as the web address of the Sisters of Life. The young woman was smiling and said "God bless you" as Gerald waved good-bye. He said he'd been praying about the missing backpack, but "God responded with a much greater blessing!"
KALISPELL, MONTANA
Floyd in Kalispell says two babies were saved from abortion. In both cases, the mothers are 16-year-old girls. One of these young women arrived at the abortion center with her mother, her aunt and one of her mother's friends. Inside, the girl had an ultrasound exam. The technician was telling her that she had a "tissue growth" that they could take care of for her. At that point, the girl's aunt snatched the sonogram printout from the technician's hand. "Look at this ultrasound!" She said. "It's a baby!" "The aunt convinced the young lady that it was in her best interest to have the baby," said Floyd. "All the ladies left the clinic and haven't been seen since. We have heard that the young lady went to the pregnancy center with her aunt -- and all is well."
ADELAIDE, AUSTRALIA
A man stopped his car next to the prayer volunteers and asked where the abortion center was, since his wife had an appointment. One of the vigil participants talked to him, gave him some information … and convinced him to not keep the appointment. A while later, the volunteer saw that same car, around the corner, parked off the side of the road. The man and woman were feeling pressured and confused because the abortionist called to pressure them, asking why they had not shown up for their appointment. The prayer volunteer assured them they were doing the right thing – that God will take care of them, to leave and not to have any second thoughts. The woman was very grateful, and told him God had sent him. They contacted a pregnancy support center, where one of the workers confirmed that they had made a definitive choice to keep the baby. "We at the prayer site are all rejoicing," said one of the local leaders, "and giving thanks and praise to God for this wonderful miracle of life." As a bonus ... here is one final 40 Days for Life devotional from Fr. Frank Pavone, national director of Priests for Life.
DAY 41 INTENTION
Pray that the witness of 40 Days for Life bears abundant fruit, and that we begin again each day to storm the gates of hell until God welcomes us into the gates of heaven.
SCRIPTURE
He will wipe every tear from their eyes. On this rock I will build my church; the gates of hell will not prevail against it.
-- Matthew 16:18
REFLECTION by Fr. Frank Pavone, Priests for Life
When we read this verse, we usually think that the Lord is promising that the church, which is His Body, will withstand all the attacks launched against it. Of course, that is true. But when we think about it more carefully, we realize that in a battle, the gates do not run out into the battlefield to attack the enemy. Rather, they stand still to defend the city from the enemy attacking it. So when the Lord says that the gates of hell will not prevail against the church, who is doing the attacking? It is the church storming the gates! The church, all of God's people in Christ, is called to take the offensive, to run into enemy territory, and to gain ground for Jesus Christ. We do not wait for an invitation; we already have a command. We prepare, but we do not wait for circumstances to be perfect; we already have one who has gone before us. During these 40 days, we have stormed the gates. We have taken the offensive. We have pushed forward the boundaries of the kingdom. And we must keep doing so, in numerous ways. Indeed, the gates of hell will not prevail. The gates of falsehood will flee in the presence of truth. The gates of sin will melt in the presence of grace. The gates of death will fall in the presence of the church, the People of Life!
PRAYER
Father, we praise you. We have heard the voice of your Son, and therefore we can make our voices heard. We have done battle with the power of evil, and therefore we can have compassion on those still within its grip. We have been freed from the kingdom of darkness, and therefore we can bear witness to your Kingdom of Light. May the witness of all your people through these 40 Days for Life bear abundant fruit, and may we begin again each day to storm the gates of hell until You welcome us into the gates of heaven. We pray in the victorious name of Jesus Christ our Lord, Amen.
PRINTABLE DEVOTIONAL
To download today's devotional as a formatted, printable PDF to share with friends:
http://40daysforlife.com/docs/spring2013day41print.pdf
------------------------------------------------------
Yours for Life,
Shawn Carney
Campaign Director
40 Days for Life
http://40daysforlife.com
PS: What's new at 40 Days for Life in your community? Please share any blessings by replying to today's blog entry: http://40daysforlife.com/blog/?p=4095
---
Death Certificate Confirms Abortion, Not Fetal Anomaly, Responsible for Woman's Death
March 13
Germantown, MD - Operation Rescue has obtained the official death certificate for Jennifer Morbelli, who died on February 7, 2013, from complications to a 33-week abortion done by late-term abortionist LeRoy Carhart. The document provides clarification as to the cause of her death.
The document confirms that Morbelli died at 12:25 p.m. on February 7 at Shady Grove Adventist Hospital. Section 23a indicated that the cause of death was Disseminated Intravascular Coagulation "due to or as a consequence of Amniotic Fluid Embolism following Medical Termination of Pregnancy."

While "Fetal Anomalies" is also listed in the same section, the certificate clearly states that this entry refers to the "Disease or injury that initiated events resulting in death."
"There have been some erroneous reports that the fetal anomaly suffered by Mrs. Morbelli's baby led to or contributed to her death, but her death certificate sets the records straight. It clearly was the diagnosis of her baby's health problems that served as the catalyst to events that led Mrs. Morbelli to seek the abortion that killed her," said Troy Newman, President of Operation Rescue and Pro-Life Nation. "If Mrs. Morbelli had not sought an abortion from LeRoy Carhart, she would be alive today."

The death certificate confirms the information first reported by Operation Rescue. It also indicated that Morbelli was pregnant and that she delivered a dead baby on February 6, the day before her death.

Jennifer Morbelli was a 29-year old kindergarten teacher that lived with her husband in White Plains, New York. She was pregnant with their first child, who they had already named Madison Leigh. While in her 31st week of pregnancy, Morbelli received news that her baby suffered from an apparent seizure syndrome, which led her to seek an abortion two weeks later.

The Maryland Board of Physicians has launched a preliminary investigation into Morbelli's death based on a complaint filed by Operation Rescue, which has also made a formal request of the Montgomery County State Attorney for Carhart to be charged criminally for abandoning his patient, an act that led to a delay in her seeking emergency medical care. Disseminated Intravascular Coagulation, the clotting condition that led to her hemorrhaging to death is known to be treatable if caught in time.

This is the same condition suffered by another Carhart patient, Christin Gilbert, who died from complications to a late-term abortion she received from him in 2005.

"Jennifer Morbelli's death certificate only reinforces our strong belief that the negligent actions of LeRoy Carhart caused her tragic death. We call on the authorities in Maryland to hold him accountable and prosecute him to the fullest extent of the law before he kills again," said Newman.
View Morbelli's Death Certificate
(Note: Operation Rescue has redacted private information from the document but maintains the unredacted certificate on file.)
---
Indiana Abortion Statistics Released
Indiana's official 2008 abortion statistics have been released by the Indiana State Department of Health - and the news isn't good. Yesterday we issued a press advisory sounding the alarm over the 16% spike in chemical abortions. In further review of the numbers, more disturbing trends are now uncovered:
Abortions increased 15% among girls 10-14 years old
Sharp curettage abortions surged 114%
Abortions rose 5.5% for women 20-29 years old
Abortions rose among black women
Abortions rose in Marion and Monroe counties
Fortunately, not all of trends are negative. In fact, the total number of abortions declined in three Indiana counties where abortion businesses operate: Allen County (7.6% decrease), Lake County (1.7% decrease), and St. Joseph County (6.2% decrease).

Bottom line: we have a lot of work left to do in Indiana.
Click here to view the full report!
---
Chemical abortions surge, abortions rise in Marion and Monroe counties according to newly-released statistics
Indiana Right to Life is raising new concerns over the alarming growth of chemical abortions in Indiana in the wake of the latest posting of abortion statistics by the Indiana State Department of Health.

According to the ISDH's Indiana Induced Termination of Pregnancy Report 2008, which represents the most recent official abortion statistics available for Indiana, chemical abortions increased by over 16% from 2007 to 2008, confirming fears that Planned Parenthood is more aggressively marketing chemical abortions in preparation for an expansion of the procedure to multiple areas of Indiana.

The 2008 stats also reveal a slight overall increase of abortions by .3% from 2007 to 2008, largely due to an increase in abortions done in Marion and Monroe counties in Indiana. Not surprisingly, Planned Parenthood is the sole abortion provider in Monroe County and does the majority of abortions done in Marion County.
"Abortions are on the rise in Indiana and Planned Parenthood is the reason why," states Indiana Right to Life President and CEO Mike Fichter. "These latest statistics underscore why Indiana should not send one dime of our public funds to Planned Parenthood."
The 2008 Indiana statistics also reveal abortion's devastating impact on Indiana's black community with a disproportionately high percentage of abortions, 29.8%, done on black women.
"The trends here are clear to see. Abortions are rising in the areas where Planned Parenthood dominates the market, chemical abortions are expanding, and the black community remains a target of Indiana's abortion business," notes Fichter.
In spite of the negative trends, Indiana Right to Life is applauding an abortion rate reduction of over 7% in Fort Wayne as well as slight reductions in Lake and St. Joseph counties.
---
Five Truths about Planned Parenthood
by Charmaine Yoest
Anyone who believes PP is primarily concerned with the health of women and girls needs to look at the record.
As the 2012 budget battles began, Clare Coleman, CEO of the National Family Planning and Reproductive Health Association, took to the pages of the Washington Post. In a piece called "Five Myths about Planned Parenthood," she argued that defunding the organization was an ignoble goal for members of Congress looking to cut the bloated federal budget.
She said she wanted to address "misperceptions" about the abortion-industry giant. She was joined in her goal on the front page of the Washington Post by reporter Sandhya Somashekhar, who painted a picture of Planned Parenthood that minimized the role abortion plays at the organization's health-care affiliates.
In presenting Planned Parenthood as mainly focused on prevention, Ms. Coleman neglects to mention several statistics, gleaned from the organization's own annual reports and fact sheets, that illustrate its heavy (and increasing) involvement in abortion, as well as its practices that routinely place women's health and safety secondary to its own bottom line.
While the Washington Post declined to present an alternative to the Planned Parenthood way of thinking, there are a multitude of other facts to consider. To add to the discussion of whether Planned Parenthood should continue to be funded, let's consider five truths about an industry that receives more than $360 million in taxpayer subsidies annually.
1. Planned Parenthood is the nation's largest abortion provider, performing (and profiting from) one out of every four abortions in the United States.
In 2009, abortion was a "service" that Planned Parenthood provided to 12 percent of its patients overall, and to 97.6 percent of its patients who reported themselves pregnant. It performed 332,278 abortions in that one year alone. That is an average of 910 abortions each and every day.
Since the average cost of an early surgical abortion was $451 (according to the Guttmacher Institute, Planned Parenthood's former "special affiliate"), abortion accounted for approximately 37 percent of Planned Parenthood's health-care-center income in 2009. And that figure — nearly $150 million in revenue from abortion — is a low estimate, considering that Planned Parenthood also performs later and more expensive abortions.
In terms of time, money, and unduplicated patients — rather than the bloated "services" rhetoric — abortion contributes significantly more than the 3 percent Ms. Coleman implies to Planned Parenthood's bottom line.
2. Planned Parenthood increases its abortion numbers with each passing year, bucking the nearly 20-year national trend of a decreasing abortion rate.
Today, Planned Parenthood performs nearly double the number of abortions it did in 1999. And over the last twelve years — during which the amount of taxpayer funding Planned Parenthood receives has, coincidentally, also doubled — it has dramatically reduced the other pregnancy-related services it provides. In 2009, Planned Parenthood made referrals for only 997 adoptions, in contrast to the 2,999 referrals it made in 1999. Similarly, Planned Parenthood's clients for prenatal care dropped from 18,878 to only 7,021.
Abby Johnson, the former director of Planned Parenthood's clinic in Bryan, Texas, reports that, in 2009, her clinic was given an increased abortion quota in order to raise revenue. (According to Mrs. Johnson, "the assigned budget always included a line for client goals under abortion services.") Mrs. Johnson has said that her superiors gave her "the clear and distinct understanding that I was to get my priorities straight, that abortion was where my priorities needed to be because that's where the revenue was."
The latest annual report for the affiliate Ms. Coleman headed before she assumed her current post, Planned Parenthood of Mid-Hudson Valley (PPMHV), seems to corroborate Mrs. Johnson's claim that Planned Parenthood is increasing abortion services with an eye toward increased revenue. PPMHV is relocating its consolidated clinics to open larger and more "modern" facilities, which, notably, have "the addition of surgical abortion services." The PPMHV report "anticipates" that these new centers will lead to "increasing our revenue and sustainability."
Planned Parenthood's new use of Skype to dispense abortion-inducing drugs and its mandate that all affiliates provide abortion services by 2013 also indicate that the organization wants its abortion-increasing trend to continue.
3. Planned Parenthood affiliates have failed to be good stewards of taxpayer funds.
In some cases where Planned Parenthood has not been legally allowed a "financial cushion" through a government health-care program, it has felt entitled to build one for itself. For example, a California audit report showed that in one year alone Planned Parenthood of San Diego and Riverside Counties received $5 million more than it should have because of improper billing practices.
And contrary to Ms. Coleman's claim, Planned Parenthood does have sources of money other than the government dole. In fact, for its fiscal year ending June 30, 2009, Planned Parenthood Federation of America (PPFA) and its affiliates reported receiving $308.2 million in "Private Contributions and Bequests." It also made $404.9 million in "Health Center Income." Though individual affiliates have recorded losses, Planned Parenthood overall reported an "excess of revenue over expenses" of $63.4 million in 2009.
4. Planned Parenthood fights reasonable laws to protect women and girls because such laws might undermine its ability to make money.
Planned Parenthood's consistent and financially motivated opposition to federal and state legislation designed to protect women and girls makes clear that its abortion business trumps its professed concern for these women and girls. Just this spring, a Planned Parenthood affiliate in Illinois fought a bill to make reporting of sex abuse mandatory, because Planned Parenthood allegedly feared that the legislation might overload the responsible agency with too many cases of suspected abuse.
Planned Parenthood's longstanding efforts across the nation to overturn common-sense laws that safeguard women's health and safety further underscore the organization's pattern and practice of refusing to make caring for women a priority. Just a few years ago, Planned Parenthood challenged a Missouri law that required abortion clinics to meet the same standards as the ambulatory-surgery centers in the state. Its reason? Bringing its clinics into compliance with these medically accepted standards would be prohibitively costly.
5. Planned Parenthood partners with those who sexually abuse and exploit women and girls.
Substantial evidence suggests that Planned Parenthood — far from being a defender of women and girls — defends and abets those who sexually abuse and exploit them. Planned Parenthood has shown itself to be a perfect partner to the pimp, sex trafficker, or child abuser. It hides his crimes through its willful failure to report suspected sexual abuse of children to authorities and its refusal to comply with parental-involvement laws. For example, Planned Parenthood of Central and Northern Arizona was found negligent and civilly liable for failing to report the sexual abuse of a young girl who was being raped by her foster brother, and Planned Parenthood Minnesota/North Dakota/South Dakota was fined $50,000 for ignoring Minnesota's parental-notice law. Planned Parenthood's failure to intervene in cases of abuse reflects a lack of concern for the women and girls who go to Planned Parenthood seeking trustworthy care and counsel.
One of Ms. Coleman's five "myths" is the assertion that "People do not really need Planned Parenthood." The truth is this: People do not need Planned Parenthood to stay in the abortion business (nor to annually increase its stake in it). People do not need Planned Parenthood to protect adult men who prey on and abuse young girls. People do not need Planned Parenthood's anti-woman, bottom-line-oriented view that pushes abortion at the expense of women's health and safety. Above all, people do not need Planned Parenthood's scandal-ridden and abortion-heavy business practices to be subsidized by taxpayer dollars.

---
Live Action Releases a Video that Exposes Planned Parenthood in New York City
The latest from Bronx, NY—a clinic supervisor and medical practitioner aid and abet sexual exploitation of minors, even telling the undercover "pimp" he can pose as a legal guardian to get discounts for his underage sex workers, some as young as 13 years old. Click below to view the video:
---
Number of abortions done by Planned Parenthood of Indiana increase by over 2% according to new annual report!

Indianapolis, IN - Indiana's largest abortion provider, Planned Parenthood of Indiana, is reporting 5,580 abortions done in 2010, an increase of more than 2% in the number of chemical and surgical abortions done at its abortion clinics in 2010 as compared to its 5,452 reported abortions for 2009. The increase amounts to 128 more abortions done in 2010 as compared to 2009. The numbers are reported in Planned Parenthood's 2010 annual report recently posted on its website.
The increase in abortions is even more alarming in light of the increased ratio of abortions to pregnancy tests done by Planned Parenthood of Indiana in 2010. According to its annual report, the ratio of abortions to pregnancy tests increased to one abortion per every 3.79 pregnancy tests in 2010 (5,580 abortions vs. 21,156 pregnancy tests) as compared to one abortion per every 4.25 pregnancy tests in 2009 (5,452 abortions vs. 23,151 pregnancy tests).

"Planned Parenthood of Indiana's rise in abortions is a clear indicator that abortion remains at the core of everything this organization is about," says Indiana Right to Life President and CEO Mike Fichter. "This abortion rate increase is further evidence that state tax dollars can be better spent elsewhere as opposed to fueling Indiana's largest abortion business."
Planned Parenthood of Indiana is reporting revenue of $15,670,306 in 2010 with $2,008,760 coming from government contracts and grants. Planned Parenthood of Indiana annually does more than 50% of the total chemical and surgical abortions done in Indiana.

Earlier today, Planned Parenthood of Indiana issued a press advisory touting a total of five adoption placements, making its abortion to adoption placement ratio 1,116 abortions for every 1 adoption placement.

"Planned Parenthood and abortion go hand-in-hand," says Fichter. "Indiana will never reduce its abortion rate by funding an organization that has a vested financial interest in doing more and more abortions."
---
Obamacare Funds Abortions! Click below to view the video that explains it all!
---
Spiritual Adoption Spanish Brochure Now Available Online!
Our beautiful spiritual adoption brochure is now available online in Spanish! Visit our Spiritual Adoption page to see the online Spanish version of our spiritual adoption brochure. You can also order the Spanish brochure for your community, church, group! We hope you will love it as much as we do. Tell all of your Spanish friends! Thank you Tony and Marigen for doing a wonderful job.
---
Why Abortion is Evil
Click here to read an article from our friends at Tradtion Family Property Student Action group as to why abortion is evil.
---
Why We Fight
Rights for the unbornL Pressing on for 'life, liberty and the pursuit of happiness'
President Obama's selection of Elena Kagan, the most demonstrably pro-abortion Supreme Court nominee in recent memory, presented a daunting challenge to pro-life leaders, as her 63 Senate votes during Thursday's confirmation attest.
Not unreasonably, observers have asked: Why then, do we bother?
The question resonates for this particular political confrontation but applies equally to the larger issue as a whole as we near four decades of abortion on demand in America post Roe v. Wade.
We bother because, in the end, we will win.
Think of "Rocky" and "Rudy." In a universally favorite movie plot, the unsung and discounted hero defies great odds, ignores the naysayers, perseveres in the face of overwhelming obstacles and emerges triumphant just when it looks impossible.
Tenacious persistence has been part of the American fiber since the beginning.
After all, our nation's founding was the impossible dream of the 18th century. America's founders had the audacity to believe that the people could govern themselves, and they agreed to take on the world's greatest military power to earn the right to try.
But in our modern, 24/7 drive-thru microwave Twitter culture, we often forget that great victories for the betterment of humankind don't happen instantly. Real, substantive change doesn't take place in the course of one election, one year or as the result of one political battle. It is achieved through a long march that can span many lifetimes.
Martin Luther King Jr.'s "I Have a Dream" speech was not the launching point in the struggle for civil rights and equality. Rather, Dr. King's genius was his dedication to carrying a well-weathered baton that was handed to him by a long list of committed visionaries. The struggle to make all Americans truly equal regardless of race, which predates our republic, took more than a century and a half.
In 1773, Benjamin Franklin wrote "a disposition to abolish slavery prevails in North America" while Thomas Jefferson, in another letter, castigated King George for his "cruel war against human nature itself" because the king opposed efforts to prohibit the slave trade in the American Colonies.
President John Quincy Adams - the "hellhound" of abolition - was a strong opponent of slavery in America's early years and had hoped to see its end. Realizing near the end of his life that victory would not be achieved on his watch, he noted that in spite of this, "my conscience presses me on."
But Adams, in his later years, befriended a one-term congressman from Illinois. Young Abraham Lincoln, who went on to become the 16th president of the United States, later based his Emancipation Proclamation on Adams' anti-slavery arguments.
As decade stretched into decade, Americans from Harriet Tubman to Rosa Parks pressed on in the defining human rights struggle of their time. And, after fighting a bloody war, staging protests at lunch counters or walking into a hostile school escorted by armed paratroopers, hundreds of thousands of people eventually moved the nation to do the right thing.
Finally, on July 2, 1964, President Lyndon B. Johnson - with King present - signed the Civil Rights Act, a law that put into practice the 14th Amendment guarantee of equal protection for all Americans.
Today, in poll after poll, Americans are trending more and more pro-life. They want to see abortion restricted, support parental involvement laws and want an end to taxpayer-funded abortion. On the issue of judges, Americans are also very clear. In a recent poll, 87 percent said they support judges who "interpret the law as it is written" and 70 percent said they think elected officials should make policy and not the courts.
In spite of this opposition to an agenda-driven judiciary, Washington elites continue to defy the people. Elena Kagan's nomination is a prime exemplar of this vast contradiction.
After months of dedicated opposition to her nomination, Ms. Kagan's confirmation is a difficult setback in our long march to ultimate victory.
Justice Kagan's agenda-driven philosophy, her advocacy of abortion without any restrictions, and her record as a White House aide who manipulated medical evidence to achieve political ends has caused a stir among the electorate.
In 1857, when the Supreme Court ruled in Dred Scott v. Sanford that black Americans essentially had no protection under the Constitution and therefore virtually no rights, abolitionists may have felt that their cause had been dealt a serious blow - yet they continued to press ahead.
They pressed ahead, as we do now, not because victory was immediate but because they were compelled by duty to do what is right. And in America, land of the second chance, we know there will be another opportunity.
When opportunity comes, we will take on the challenge to the best of our ability. We take that challenge knowing that maybe on our watch, or maybe on our children's watch, 1964 will come again. We are, after all, one human race on an unending quest to secure life, liberty and the pursuit of happiness for all.
Remembering this, may our consciences press us onward.
Charmaine Yoest is president and chief executive of Americans United for Life.

Alveda King is director of African American Outreach for Priests for Life and founder of King for America.

---
Catholic Women's College Lists 10 Abortion Advocacy Groups on Their Website
Alverno College in Wisconsin, a Catholic women's college, lists 10 abortion advocacy groups on its web site. Most of the problematic links appear under "health resources."

CLICK HERE to go to the America Needs Fatima website and sign an electronic protest get thelinks erased.

Your instant protest message will go directly to the president of Alverno College, Mrs. Mary Meehan, PhD, urging her to take the 10 links off the college's web site.

It is just wrong for a Catholic college to channel students to abortion advocacy groups.

For example, one of the links directs students to the Center for Reproductive Rights, a web site that promotes "legal, safe, and affordable contraception and abortion."

Other links send students to groups such as:
ACLU
Center for Reproductive Rights
Feminist Majority Foundation
Feminist Women's Health Center
Lambda Legal
National Women's Health Network
National Latina Institute for Reproductive Health
National Organization for Women (NOW)
SIECUS
Women's Medical Fund, Inc.
According to its own web site, the Women's Medical Fund, Inc. "provides direct financial aid to Wisconsin women who are seeking to terminate an unwanted pregnancy... Over 99.5% of all donations go directly to fund poor women's abortions."
To "terminate an unwanted pregnancy" is abortion lingo. In plain English, it means to take the innocent life of an unborn child.

Enough said.

Can you help us ramp up this protest?
Please click here to sign your instant protest today
---
Questions about Abortion in the new Health Care Law
By Tom Grenchik
Since the recent passage of the Patient Protection and Affordable Care Act, scores of people have been contacting the Pro-Life Secretariat of the U.S. Conference of Catholic Bishops with a multitude of questions, such as:
Does the new health care legislation actually provide federal funds for elective abortions? Answer: Yes.

Can individuals be forced to pay for other people's abortions even if they are morally opposed? Answer: Yes.

Are there new challenges to the consciences of individuals, employers and health care providers? Answer: Yes.

Didn't President Obama's Executive Order fix the abortion and conscience problems that the bishops had raised about this legislation? Answer: No.
For those interested in more in-depth answers, we offer callers a couple of helpful new resources developed by the bishops' conference:
Then there are callers with tactical questions, like:
Weren't the bishops just out to kill health care reform all along? Answer: No.

Haven't the bishops just been over-reacting to abortion-related problems that weren't really there? Answer: No.

Can anything be done to fix these problems? Answer: Yes.

For many, many months now the U.S. bishops have made statements and sent numerous letters to Congress with the message that our country needs reform that makes health care available to everybody, while killing nobody (www.usccb.org/healthcare/official_documents.shtml#releases). The bishops have long supported reform, but they made it very clear that no matter how much perceived good might be accomplished, such legislation must not promote a fundamental moral evil or force people to participate in that evil. Health care reform should not have become the vehicle for expanding abortion or challenging conscience protection. It was not the bishops who forced the issue, but congressional leaders themselves. They refused to apply longstanding current policies on abortion funding and conscience rights to this legislation, all the while claiming that abortions were not being funded.
When it became clearer that congressional leaders would not back down, the bishops' message to Congress was unambiguous as well. Just before the final vote, the bishops sent one more appeal to Congress that was introduced with a USCCB press release entitled: Bishops to House of Representatives: Fix Flaws or Vote No on Health Reform Bill. It stated: House leadership won't even try to address the serious problems on abortion funding [and are] ignoring conscience protection and fair treatment of immigrants (www.usccb.org/comm/archives/2010/10-051.shtml).

Ignoring the plea of the bishops and the large majority of Americans who oppose abortion funding in health care reform, Congress has now enacted the largest expansion of abortion funding in our nations' history, since Roe v. Wade. Assurances that abortion funding would be removed and consciences would be thoroughly protected have turned out to be empty promises.

But our efforts are far from over. Now we must go back to all the legislators who stated that the abortion and conscience problems were either not there, or would be fixed at another time, because that time is now! We must fix this "deeply flawed law", as Cardinal George called it, and we'll need a strong bi-partisan effort to do so. It will require the active engagement of Catholics and other constituents demanding this congressional response. Correcting this law, so it will truly uphold everyone's rights to life and health, will take much prayer and hard work, but the stakes have never been higher.
Tom Grenchik is Executive Director of the Secretariat of Pro-Life Activities, U.S. Conference of Catholic Bishops. Go to www.usccb.org/prolife to learn more about the bishops' pro-life activities.
---
Hearts for Life is Now on the Radio!
Click below to hear an interview with two of our board members, Mark Hosbein and Jason Cabral at Catholic Radio (89.1).
HS Mandate - Local Bishop Speaks
The Obama administration's mandate for contraception, sterilization and abortifacient drugs is a very serious attack against religious freedom. If the mandate is imposed, it would violate the consciences of millions Catholics. The mandate would force Church institutions to make a choice--either submit to the mandate or refuse to cooperate with a sinful agenda that continues more effectively the assaults against the dignity and sanctity of human life. Refusal to cooperate would result in harsh consequences.
In a society that mocks and challenges her beliefs and values in the world, the Catholic Church must never compromise its divine mission. During this critical time in American history, the hierarchy and faithful of the Catholic Church must confront the ongoing attacks against religious freedom with courage, determination and effective political action. The bishops of the United States are speaking out.
To view Bishop Coyne's statement, log on to http://www.catholicvote.org/discuss/index.php?p=25591. Scroll down to number 57. You may also read the statements from other bishops on this site.
To read the February 3 news release of the USCCB (United States Conference of Catholic Bishops) log on to http://www.usccb.org/news/2012/12-020.cfm.
Have you made your views known to your Representative and two Senators about the Obama administration's attack on religious freedom? If not, please visit the website of the National Committee for a Human Life Amendment (NCHLA). The NCHLA works closely with the United States Conference of Catholic Bishops (USCCB). You may send your message in support of the Respect for Rights of Conscience Act to your Representative and two Senators by logging on to http://actions.nchla.org/link/target/nchla/rWfRRPcr.aspx.
Sister Diane Carollo, S.G.L.
Director, Office for Pro-Life Ministry
---
Vice President Biden "fully understands" China's One-Child Policy!
Just when you thought the Obama administration couldn't be any more radically pro-abortion… it gets worse.

While visiting China last weekend, Vice President Biden told Chinese officials that he "fully understands" their One-Child Policy and wasn't "second guessing" it.

Take Action: Tell President Obama and Vice President Biden to publicly condemn China's One-Child Policy and end all taxpayer funding of the United Nations Population Fund.

Congressman Chris Smith, a longtime critic of the One-Child Policy, put it best when he said:
"[The One-Child Policy] is hideous. Women are hunted down if they evade these family planning cadres into the ninth month. They are forcibly brought into a clinic and aborted…this is the most pervasive act of violence against women anywhere in the world. It is systematic and state-sponsored, and the United States, under Obama, Hilary Clinton – and now Vice President Biden in this outrageous statement – is showing the world that we do not care about Chinese women and babies."
Congressman Smith's remarks were reinforced by a strong statement from Speaker of the House John Boehner, who called on Vice President Biden or President Obama to personally go on the record immediately and denounce the One-Child Policy. This came after a spokesperson for Vice President Biden tried to walk back his comments.

Speaker Boehner also called on the Obama administration to end America's taxpayer support of the United Nations Population Fund, which helps China promote their One-Child Policy.

Join Speaker Boehner in calling on Biden and Obama to condemn China's One-Child Policy and end taxpayer funding of the U.N. Population Fund.

I've read several accounts of women who have been victimized by China's brutal policy, and they break my heart.

One couple – Liang Yage and his wife Wei Linrong, told NPR in an interview that they thought they could keep their second child if they paid a fine. But when Wei was seven months pregnant, ten "family planning officials" showed up at their house and told her "If you don't go [to the hospital], we'll carry you."

Wei told NPR:
"I was scared. The hospital was full of women who'd been brought in forcibly. There wasn't a single spare bed. The family planning people said forced abortions and forced sterilizations were both being carried out. We saw women being pulled in one by one."
The officials then gave Wei three injections in her lower abdomen, and after 16 hours of contractions, she gave birth to a stillborn baby boy.
"The nurses dealt with the body like it was rubbish," Wei said. "They wrapped it up in a black plastic bag and threw it in the trash."
Please be a voice for the victims of China's One-Child Policy, like Wei Linrong, by taking action today. And after you've taken action, please forward this e-mail to as many of your friends, family, co-workers, and folks from your church as possible so that they can take action as well.

With your help, we will continue to fight back against the Obama administration's assault on human life both here at home and abroad.
Marjorie Dannenfelser
President, Susan B. Anthony List
www.sba-list.org

P.S. Tony, as Speaker John Boehner (R-OH) said in response to Vice President Biden's comments, "No government on Earth has the authority to place quotas on the value of innocent human life, or to treat life as an economic commodity that can be regulated and taken away on a whim by the state."
---
Governor Rick Perry Signs the Susan B. Anthony Pro-Life Presidential Leadership Pledge
Texas Governor Rick Perry has become the latest presidential candidate to sign the Susan B. Anthony List Pro-life Presidential Leadership Pledge.

Governor Perry joins Michele Bachmann, Thad McCotter, Ron Paul, Tim Pawlenty, Rick Santorum, and Newt Gingrich in committing to be a true leader for Life in the White House if elected President.

In signing the Pledge, Governor Perry remarked:

"I not only pledge to protect unborn life, but have a record of doing so in Texas. I have long advocated adoption as an alternative to abortion in order to protect unborn children."

Click here to check out his signed pledge on our website - and don't forget to add your name to the list of over 22,000 voters who have signed the Citizen's Pledge.

As you know, the SBA List has asked all declared presidential candidates to sign our Pro-life Leadership Pledge. Signers commit to:
Nominate only constitutionalist Judges,
Select only pro-life appointees for relevant Cabinet and Executive Branch positions,
Permanently end all taxpayer funding of abortion both at home and abroad, including defunding Planned Parenthood abortion providers, and
Advance and sign into law a Pain-Capable Unborn Child Protection Act to protect unborn children who are capable of feeling pain from abortion.
---
ANOTHER ABORTION PILL?
It appears the Food and Drug Administration (FDA) is moving quickly towards approving ella (Ulipristal Acetate), to be marketed in the in the U.S. as an emergency contraceptive, even though it is similar to RU-486, the chemical abortion pill, which has caused severe injury to women even causing deaths. Like RU-486, ella functions by blocking progesterone receptors which prevents an embryo from implanting in the uterine wall and could prevent an already implanted embryo from receiving proper nutrition causing an abortion.
Congressman Joe Pitts (R-PA) has written a letter urging the FDA to do additional research on ella and emphasizing that the drug should NOT be approved at all if it could end the life of an unborn child.
Please send a quick message urging your Congressman to co-sign Rep. Pitts' letter to the FDA. Act quickly, as the deadline to sign on is this Wednesday- click here to send a message now!
If ella is deceptively marketed as an emergency contraceptive, women will be misled into thinking the drug will prevent pregnancy, when it could actually result in an abortion of their unborn child.
Ask your Representative to co-sign Rep. Pitts' letter to the FDA, urging them to do further research on ella. We only have until Wednesday to get as many co-signers as possible. Click here to send your message today.
The FDA is supposed to exist to protect Americans from harmful drugs which is why they must do more research before approving ella as they risk approving a drug which could end the lives of the youngest, most vulnerable Americans. When the abortion pill RU-486 was approved, it was done so without enough research; a mistake which has resulted in thousands of women injuring themselves, and some even dying. The fight to end the use of RU-486 continues, but now there is an additional battle to be waged.
We can't let another abortion pill make its way into pharmacies across the country.
Please ask your Congressman to co-sign Rep. Pitt's letter today, and insist the FDA do more research before approving ella. Click here.
---
Pro Life Quotes from Presidential Candidates
Michele Bachmann
"I believe you can get money wrong, but you can't get life wrong." – FOX/Examiner Presidential Debate, 8/11/11

Ron Paul
"The prime reason that government exists in a free society is to protect liberty, but also to protect life, and I mean all life…all Life is precious." – Ames Straw Poll speech, 8/13/11

Rick Santorum
"The child [concieved in rape] is an innocent victim. To be victimized twice is a horrible thing. It is an innocent human life, genetically human from the moment of conception and is a human life...we should help women in those terrible situations that have been traumatized already. To put them through another trauma of an abortion is too much to ask...one violence is enough." – FOX/Examiner Presidential Debate, 8/11/11
---
Catholic College Prof (Who Blogged for Pro-Abort Site) Promoted Poem Blasting USCCB Pro-Life Work
A professor scheduled to teach core-level sociology courses next semester at the College of Mount Saint Vincent continued last month to blog at the radical pro-abortion website for RH Reality Check. In a recent post, she promotes a poem that attacks the "Women Deserve Better" campaign sponsored by the United States Conference of Catholic Bishops' Secretariat for Pro-life Activities.
Bianca Laureano, who has reminded her readers on more than one occasion that she teaches at a Catholic college, has over the last several months posted to her blog on a wide range of topics directly opposed to Catholic moral teachings.
Last March, The Cardinal Newman Society discovered a post by Laureano in which she said she believes that the "educational value" of an after-class presentation of a sex act at Northwestern University "helps to make clear that sex work is work."
The Cardinal Newman Soceity reported in April on two more troubling posts by Laureano regarding a presentation she gave on "Latina Sexualities," which incorporated artwork that portrays the Virgin Mary pornographically (warning: there is very offensive material in her post), and another workshop she was preparing to give to students at Jesuit Saint Peter's College.
In her most recent post from June, titled "What Women Deserve", Laureano embedded a YouTube video of a pro-abortion rights poem by Sonya Renee Taylor blasting the "Women Deserve Better" campaign sponsored by the USCCB Secretariat for Pro-life Activities and the Knights of Columbus.
Laureano writes of the poem:
I also share this because it is important to know that if there is artwork/images/media that we value, and wish to use/support and include in conferences, classrooms or organizations, the creators are approachable! …

I hope you enjoy this piece by Sonya as much as I do and can find ways to use it and her other poems in the work you are doing
According to the Fall 2011 College of Mount Saint Vincent course schedule, Laureano is slated to teach two core courses in sociology. This Summer, Laureano taught classes on women and human sexuality.
---
Sweeping pro-life policies go into effect today in Indiana; historic advances place Indiana on the leading edge
FOR IMMEDIATE RELEASE July 1, 2011

Contact: Cathie Humbarger, Communications Director
(260) 615-1961 cathie.humbarger@ichooselife.org
Indiana Right to Life is hailing today as the date on which sweeping pro-life policies will go into full effect in Indiana, marking the most significant improvements to Indiana's abortion law in nearly four decades.
The new policies, incorporated in House Enrolled Act 1210 and House Enrolled Act 1474, impact a broad scope of areas including enhanced information on the risks of abortion for women considering the procedure, streamlined access to emergency care for women injured by abortion, improved reporting requirements to assist children who have abortions as a result of being victims of child sexual abuse, increased protections for pain-capable children beginning at 20-weeks of pregnancy, and an opt-out of abortion coverage under any state health exchange required under the new federal health law.
"These are monumental advances in state policy that place Indiana on the leading edge of national efforts to curb abortion," states Indiana Right to Life President and CEO Mike Fichter. "Women will now have better and more comprehensive information on the health risks of abortion, pain-capable children will enjoy stronger protections, and taxpayers can take comfort in knowing Indiana is opting out of abortion coverage in a key component of the federal health law."
Fichter acknowledges the bipartisan support these new provisions received in the Indiana legislature and applauds Republican leadership for moving the legislation forward in a contentious session in which pro-life bills could have been shelved by less committed leadership. "Governor Mitch Daniels, Senate President Pro-Tempore David Long and House Speaker Brian Bosma did a masterful job in allowing the legislature to move these positive policy issues forward," says Fichter.
Highlights of the new Indiana policies that go into effect today include:
Women must receive state-required informed consent information both orally and in writing. Previously in Indiana, abortion businesses were only required to deliver the information orally.

Women must be informed that human physical life begins at fertilization.

Women must be informed of the increased risk of infertility, infection, or hemorrhaging as a result of abortion.

Doctors who do abortions in Indiana, or designees of the doctors doing the abortions, must maintain local hospital admitting privileges provide medicallicensing numbers, and provide emergency contact information to women having abortions in order to streamline access to emergency care for women suffering adverse medical results following an abortion. Previously in Indiana, women were told to call 911 if complications occurred.

Girls under the age of 15 must be informed that their abortion must be reported to child protective services for investigation into potential child sexual abuse.

All abortions on girls under the age of 14 must be reported to child protective services within three days of the abortion in order to facilitate prompt investigation into child sexual abuse.

Women considering abortion must be informed about Indiana's safe haven law that allows for mothers who decide to carry their children to term but are unable to care for their children to leave them with safe haven providers such as local police without criminal repercussions.

Indiana will opt-out of abortion coverage in any state health exchange required under the new federal health law passed by Congress in 2010.

Pain-capable children beginning at 20-weeks gestational age will enjoy enhanced protections under Indiana law.

Indiana's abortion reporting forms will be required to include the age or estimated age of the child's father, the date of the abortion, and the date the completed report was filed with the state. These adjustments will help the state to verify that abortion reports are being filed in the legally required timeframe and will help child protective services to better identify potential child abuse.
Two additional provisions of HEA 1210 have been enjoined by a federal judge, including the removal of all state-directed funds from businesses that do abortions and a requirement that women be informed about an unborn child's ability to feel pain. Fichter states that Indiana Right to Life is confident that both of these provisions will be upheld by the courts and will eventually go into effect.
"Indiana is now a pacesetter for the nation," says Fichter. "We hope that other state legislatures will be emboldened by the forward thinking of Indiana policymakers and will join us in taking practical and effective measures to reduce abortions nationwide."
Fichter notes that Indiana Right to Life will be monitoring abortion businesses to ensure compliance and will work with government agencies and local prosecutors to report any suspected non-compliance.
---
Live Action audio catches Planned Parenthood admitting that Medicaid services are available through other providers
Indiana Right to Life Press Advisory
FOR IMMEDIATE RELEASE

Contact: Cathie Humbarger, Communications Director
(260) 615-1961 cathie.humbarger@ichooselife.org
New audio recordings of phone calls placed by the national organization Live Action to multiple Planned Parenthood facilities around Indiana provide clear indication that Medicaid services available at Planned Parenthood offices are available at other Medicaid providers contrary to claims made by opponents of the new Indiana law that denies public funding to businesses that do abortions. The law is currently enjoined by order of federal judge Tanya Walton Pratt.

According to Live Action, the recordings of the phone calls to Planned Parenthood of Indiana offices occurred while the defunding provision of the Indiana law was in full effect. Representatives of Planned Parenthood offices in Terre Haute, Indianapolis, Merrillville, and Fort Wayne are heard acknowledging that the same services Medicaid patients might seek from Planned Parenthood are readily available through other sources including primary care physicians.

The recordings can be heard here

"We have consistently stated that Indiana's new law represents a removal of abortion businesses like Planned Parenthood from the Medicaid provider network while preserving all of the Medicaid services that Medicaid patients might seek," states Indiana Right to Life President and CEO Mike Fichter. "These recordings remove all doubt that anyone who claims that Indiana's new law denies or reduces Medicaid benefits is not being truthful. We are hopeful that this information will undergird Indiana's defense of HEA 1210 as it moves through the courts and regret that these recordings were not available to Judge Pratt prior to her injunction ruling that forces Indiana to resume public funding for Planned Parenthood."

---
Obama administration's HHS calls Indiana law removing public funds for Planned Parenthood illegal, will try to force Indiana to resume public funding
FOR IMMEDIATE RELEASE

Contact: Cathie Humbarger, Communications Director
(260) 615-1961 cathie.humbarger@ichooselife.org

The following statement was issued today by Indiana Right to Life President and CEO Mike Fichter in response to an Associated Press report that the federal Health and Human Services Department considers Indiana's new law to remove public funds from Planned Parenthood illegal:
"The Obama administration is intent on trying to force Indiana to subsidize the business of abortion in direct contrast to the desires of the state legislature and the people of Indiana. Indiana must refuse to be bullied by the federal government and must challenge this politically-charged determination with full vigor. The state of Indiana has a right to determine how it will manage its Medicaid program and to select the providers it will partner with. Planned Parenthood is not entitled to public funding."
Eight members of Indiana's Congressional Delegation have co-signed a letter in support of Indiana's law defunding Planned Parenthood to Health and Human Services Secretary Kathleen Sebelius urging the HHS to respect the intent of the Indiana state legislature and to accept the will of the people of Indiana.
Download the Indiana Congressional Delegation letter
As you know, Indiana Governor Mitch Daniels signed a bill into law defunding Planned Parenthood and other abortion providers of all state-controlled tax dollars. As the first domino to fall, Indiana set a powerful example for pro-life state legislatures across the country currently attempting to defund Planned Parenthood.

The bill went to the Governor's desk thanks to the hard work of our friends at Indiana Right to Life and legislators who led the charge. SBA List activists helped get the job done by petitioning the Governor to sign the bill, and I also authored two letters to Governor Daniels explaining to him why Planned Parenthood doesn't need or deserve taxpayer dollars.

However, on Wednesday evening, the Department of Health and Human Services, under the helm of Secretary Kathleen Sebelius, sent a letter to Indiana saying that their law defunding Planned Parenthood of Medicaid dollars is illegal.

Antonio , President Obama and Secretary Sebelius are attempting to override the will of the people of Indiana in order to protect the flow of tax dollars to one of their top political allies, Planned Parenthood.

Send a message right now to President Obama and Secretary Sebelius and tell them to respect Indiana's decision to defund Planned Parenthood.

As you know, Antonio , your SBA List and pro-life heroes in Congress such as Reps. Mike Pence and Jim Jordan worked tirelessly to defund Planned Parenthood during the recent federal budget battle. This allowed us to expose Planned Parenthood to America for what it is: a billion dollar business centered on abortion and an unapologetic partner of those who wish to exploit young girls.

But the Obama administration is beholden to the deep-pocketed and powerful abortion industry—of which Planned Parenthood is the crown jewel. And President Obama and Secretary Sebelius will stop at nothing to protect them—even interfere with legal pro-life laws.

Will you stand up for your brave pro-life counterparts in Indiana and tell President Obama and Secretary Sebelius not to interfere with the will of pro-life Americans?

American taxpayers should no longer be forced to be complicit in the abortion industry simply by paying taxes. Furthermore, our taxpayer dollars should not be going to a corrupt organization like Planned Parenthood, which has been caught red-handed in the act of aiding and abetting alleged child trafficking.

Planned Parenthood neither needs nor deserves our hard-earned taxpayer dollars and its time for President Obama and Secretary Sebelius to respect the will of pro-life Americas—both in Indiana and across the country.

Please send an urgent message to the President and Secretary Sebelius and tell them you support Indiana's efforts to defund Planned Parenthood.

With the battle to defund Planned Parenthood expanding across the states, now is the time to band together to save unborn lives and protect women and girls.
---
Earlier this year the Susan G. Komen Foundation for the Cure announced they would no longer contribute to Planned Parenthood, the nation's largest abortion provider, after it was revealed that Planned Parenthood was the subject of a government inquiry.
But after caving to intense pressure from abortion activists, Komen reversed their decision and now plans to financially support at least 17 Planned Parenthood affiliates in 2012, according to the Christian Post.
This means everyday people like you and me, who go all out to raise money for breast cancer research in honor of a loved one, should know that if it is done on behalf of Komen, that money may very well end up funding a Planned Parenthood facility that provides abortions.
Komen, which is based in Dallas, Texas, funded 18 affiliates in 2011 for a total of around $680,000. The grants were intended for breast cancer research. Ironically, Planned Parenthood does not provide the screenings for breast cancer and has to refer women to other health care providers.
Nationwide, women are choosing to no longer support Komen and its partnership with Planned Parenthood.

A March 25 Komen race in Southern Arizona was short 7,267 participants of their goal of 11,000. The event also failed to meet their fundraising goal of $700,000 by over $100,000.
Another race in Indianapolis scheduled for next week is also expected to be at least 10,000 short of last year's 37,500 participants.

TAKE ACTION
Let Susan G. Komen know you cannot, in good conscience, support their fundraising activities as long as the foundation funnels money to Planned Parenthood.
---
Sweeping HHS Mandate Now Stands, Violating Conscience Rights and Religious Liberty. Congress Must Act to Fix the Problem
AS the HHS mandate now stands, it is imperative that you contact your congressman/congresswoman as tell them that they are threatening religious liberty and conscience rights. A new house bill has been introduced called the Respect ofr Rights of Conscience Act (H.R. 1179, S. 1467) and we need you to call congress and urge them to support the passing of the bill. Click here to view more information in English. Click here to view more information in Spanish.
---
unPLANNED by Abby Johnson
Abby Johnson, former director for Planned Parenthood shares her conversion story while working at Planned Parenthood, in a newly released book titled unPLANNED.
Read Abby's inspiring story of faith and life and order a copy of her book today by clicking here!
Above all, pray for the ministry that Abby has begun in that it may open the eyes of those who are pro-abortion and blinded by the truth and sanctity of life.
Click here to read the first chapter of the dramatic true story of Abby Johnson, a former Planned Parenthood director and her life changing experiencing and her conversion.
On Monday, January 10, 21,613 people jammed onto the "Unplanned" webcast to hear former Planned Parenthood clinic director Abby Johnson reveal what she experienced inside the abortion business -- and why she resigned her job and joined the pro-life movement.
The positive comments are still pouring in!
We know some people had a hard time getting on due to the high demand, so we rushed to get the recording of the event online for you. You can listen now at:
http://instantteleseminar.com/?eventid=16864185
---
The New 112th Congress and the Fight to Repeal Obamacare
Marjorie Dannenfelser, Susan B. Anthony List President was honored to witness in-person the emotional swearing-in ceremony of Speaker John Boehner and the rest of the 112th Congress.

She wrote on National Review: "And yes, he teared up. I, for one, will start crying if he ever stops. It is a sign of humility and sensitivity to what is moving because it is true. Humility opens folks' eyes to the plight of the vulnerable — to the children intended for this world who are in danger. I have seen him moved to tears by this reality too."

Speaker Boehner and the rest of the pro-life leadership team in the House has hit the ground running and have already successfully introduced a resolution to move forward on the repeal of Obamacare. Next week, the House is expected to vote on repeal of the entire law, which allows our tax dollars to go towards ending innocent unborn Life.

Take Action: Tell Your Representative to Repeal Pro-Abortion Obamacare.
---
Indiana Right to Life Press Advisory
FOR IMMEDIATE RELEASE
Contact: Cathie Humbarger, Communications Director
(260) 615-1961 cathie.humbarger@ichooselife.org

Komen crumples to pro-abortion pressure, will resume grants for abortion giant Planned Parenthood
Breaking news... the Susan G. Komen Foundation today released a statement acknowledging that it will resume funding for the nation's largest abortion business, Planned Parenthood, after receiving a storm of criticism from abortion supporters over its announcement earlier this week that it would end such funding.
Here is the Komen statement issued today:

Statement from Susan G. Komen Board of Directors and Founder and CEO Nancy G. Brinker
"We want to apologize to the American public for recent decisions that cast doubt upon our commitment to our mission of saving women's lives.
The events of this week have been deeply unsettling for our supporters, partners and friends and all of us at Susan G. Komen. We have been distressed at the presumption that the changes made to our funding criteria were done for political reasons or to specifically penalize Planned Parenthood. They were not.
Our original desire was to fulfill our fiduciary duty to our donors by not funding grant applications made by organizations under investigation. We will amend the criteria to make clear that disqualifying investigations must be criminal and conclusive in nature and not political. That is what is right and fair.
Our only goal for our granting process is to support women and families in the fight against breast cancer. Amending our criteria will ensure that politics has no place in our grant process. We will continue to fund existing grants, including those of Planned Parenthood, and preserve their eligibility to apply for future grants, while maintaining the ability of our affiliates to make funding decisions that meet the needs of their communities.
It is our hope and we believe it is time for everyone involved to pause, slow down and reflect on how grants can most effectively and directly be administered without controversies that hurt the cause of women. We urge everyone who has participated in this conversation across the country over the last few days to help us move past this issue. We do not want our mission marred or affected by politics - anyone's politics.
Starting this afternoon, we will have calls with our network and key supporters to refocus our attention on our mission and get back to doing our work. We ask for the public's understanding and patience as we gather our Komen affiliates from around the country to determine how to move forward in the best interests of the women and people we serve.
We extend our deepest thanks for the outpouring of support we have received from so many in the past few days and we sincerely hope that these changes will be welcomed by those who have expressed their concern.
---
One Million Rosaries!
On May 6-8 people around the world are asked to pray the rosary for an end to the killing of unborn human persons. The goal is to register 1,000,000 rosaries for this intention during these three days. Please consider praying at least one rosary for this intention during these three days and register your rosary at www.saintmichaelthearchangelorganization.org
You may also send your name, country and number of rosaries to St. Michael the Archangel Organization, PO Box 41257, Memphis, TN 38174.
---
Indiana Right to Life seeks investigation into whether Indianapolis human trafficking ring sought or received services at Planned Parenthood of Indiana
Indiana Right to Life today will formally submit a letter to Attorney General of the United States Eric Holder asking for investigation into whether the recently exposed human trafficking ring operating in northwest Indianapolis is the same group referenced in a January 18, 2011, letter from the Planned Parenthood Federation of America to the Justice Department, and, if so, whether persons engaged in the Indianapolis human trafficking ring received any services from Planned Parenthood of Indiana.

Federal authorities announced multiple arrests on May 4 in connection to a multi-state human-trafficking ring in which women were brought across U.S. borders to serve as prostitutes in the Hispanic community on Indianapolis' northwest side. According to U.S. Attorney Joe Hogsett, the human trafficking ring had been operating in Indianapolis for several years. More on the Indianapolis human trafficking ring

On January 18, 2011, Planned Parenthood Federation of America President Cecile Richards sent a letter to U.S. Attorney General Eric Holder indicating that "multi-state visits [to Planned Parenthood offices] from men claiming to be engaged in sex trafficking of minors may be a hoax." Richards' letter was sent in reaction to the release of undercover videos by the group Live Action in which individuals claiming to be engaged in human trafficking sought services from Planned Parenthood offices on the East Coast. Read the PPFA letter referencing Indiana

One of the states in which Richards claimed such activity occurred is Indiana. However, Live Action has told Indiana Right to Life that it had no involvement with any undercover operations in Indiana in which they claimed to be involved in a human trafficking ring.

"It appears that we have three parts of a puzzle. Federal authorities have busted a major human trafficking ring in Indianapolis, Planned Parenthood claims a man approached one of its Indiana offices claiming to be engaged in a sex trafficking ring, and Live Action confirms it did not engage in such undercover activity in Indiana," states Indiana Right to Life President and CEO Mike Fichter. "This leaves two major questions that must be answered: was the man referenced in Planned Parenthood's letter actually from the recently busted human trafficking ring, and if he was, did Planned Parenthood provide any services to persons engaged in the human trafficking ring We will never know the answer to these questions without a thorough investigation from authorities."

While Cecile Richards' letter does not specify which of its Indiana offices may have been approached by someone claiming to be involved with a human trafficking ring, Planned Parenthood of Indiana's largest abortion center in Indiana is located on Indianapolis' northwest side in the general area where the human trafficking ring was reportedly operating.
---
Governor Mitch Daniels signs most significant pro-life legislation in Indiana since Roe vs. Wade

Indiana Right to Life is applauding Governor Mitch Daniels for signing into law today the most sweeping pro-life initiatives in Indiana since the Supreme Court legalized abortion on demand with the Roe vs. Wade and Doe vs. Bolton decisions in 1973.
HEA 1210 contains provisions to end all state-directed funding for businesses that do abortions, to establish Indiana's compelling interest in protecting pain-capable unborn children beginning at 20 weeks, to opt-out of abortion coverage in any state health exchanges required under the new federal health law, to require that women considering abortion be given full, factual information in writing, and to require doctors who do abortions, or their designees, to maintain local hospital admitting privileges in order to streamline access to emergency care for women injured by abortion.
"This legislation places Indiana on the vanguard of efforts to protect the unborn, to deny public funds to businesses that profit from abortion, and to ensure that women considering abortion have full and factual information about such issues as fetal development and alternatives to abortion," states Indiana Right to Life President and CEO Mike Fichter. "Governor Daniels has now established Indiana as one of the leading pro-life states in the nation."

Fichter also called Planned Parenthood of Indiana's move to secure an injunction against the defunding provision a delay tactic to keep public funding flowing as long as possible. "We are confident that Indiana will successfully defend this new law and that abortion businesses will be denied access to all state-directed public funds."
---
CHARGES DROPPED AGAINST NOTRE DAME 88 —PROTESTERS OF OBAMA COMMENCEMENT!
Monica Migliorino Miller, Ph.D.
Director of Citizens for a Pro-life Society
May 5, 2011-- Almost two years since they were arrested, all criminal charges have been dropped against 88 pro-lifers who protested on the campus of the University of Notre Dame in opposition to the Catholic university's invitation to pro-abortion President Barack Obama to deliver the commencement speech and receive an Honorary Doctor of Laws degree. The commencement occurred May 17, 2009. The pro-lifers were ably represented by the Thomas More Society and lead attorney Thomas Dixon with assistance from American Catholic Lawyers Association (Chris Ferrara, Michael Hirsh and Denis Brenan). In dropping the trespass cases St. Joseph County, Indiana prosecutor, Michael Dvorak brought an end to a difficult and long legal battle between the defendants and Notre Dame president Fr. John Jenkins. Notre Dame's Obama invitation ignited a controversy that attracted nationwide attention to the issue of legalized abortion and galvanized the pro-life movement, including dozens of U. S. bishops, to respond to a scandal to the faith of the Church.

Several peaceful protests occurred on campus in the week leading up to the commencement resulting in dozens of arrests. Those arrested included Randall Terry, Norma McCorvey, Missy Smith, Joan Andrews Bell, Fr. Norman Weslin, Jack Ames, Monica Migliorino Miller, and former Republican presidential candidate Alan Keyes. On graduation day itself hundreds of pro-lifers from all over the country picketed off-campus while a university "approved" anti-commencement rally took place on campus. Minutes before the graduation began, and with Air Force One flying over their heads, 17 members of Citizens for a Pro-life Society assembled outside of the Joyce Center holding photos of aborted babies whose bodies had been retrieved by members of the group from Michigan abortion clinic trash dumpsters in 2008.

Monica Migliorino Miller, Director of CPLS explains: "Our goal was to show the victims of abortion to the hundreds of ND students already lined up outside of the Joyce Center. If they were going to listen to someone who supports the unjust law of abortion—then we felt they should at least look at the victims of this law that Obama defends and advocates—the law by which the unborn were killed and their bodies tossed in the trash. Our goal was simply to be a witness to the truth—on a day in which the truth needed to be spoken."

CPLS members, including the group's director, Monica Migliorino Miller, young Madonna University college students, and Felician Sister Lois Mitoraj were arrested when, after being ordered not to do so by campus police, they proceed to walk past the closed off ticket gates in an attempt to bring their signs as close to the Notre Dame students as possible. See You Tube Video "Nun Arrested at Notre Dame"
That the criminal trespass charges were dropped is a great pro-life victory and the consequence of an agreement entered into by the defendants and the University of Notre Dame—an agreement that objectively acknowledged the pro-lifers' moral and spiritual concerns over the Obama invitation. The agreement, which passed through a number of drafts before several of the defendants believed they could, in conscience, sign it, calls for dialogue towards reconciliation. Indeed, since May 2009 Notre Dame has taken serious initiatives to strengthen its commitment to the sanctity of human life.

"This is a big step forward and a victory for the pro-life cause," said Tom Brejcha, president and chief counsel of the Thomas More Society and a 1965 Notre Dame graduate. "We are appreciative of the steps that Notre Dame has taken, including successive visits by University President John Jenkins, C.S.C., and other campus leaders to the March for Life in Washington, D.C., both in 2010 and 2011, to mark the anniversary of Roe v. Wade, and the creation of new and significant pro-life initiatives on campus. Those who share pro-life convictions may differ on tactics and approaches, but they best serve their sacred cause when they work together to secure the common good for all human beings, born and unborn alike, rather than carrying on as courtroom antagonists."
Miller explains: "With the legal burdens behind us, the dialogue has now only just begun. We know that there is still much progress yet to be made. Even recently the Notre Dame faculty-senate unfortunately refused to pass a resolution in support of Father Jenkins' participation in the March for Life and the recommendations of the University Task Force on Life. As a pro-life leader and a university professor, I will certainly continue to encourage Notre Dame to standup for life and I am more than willing to recognize that improvements have been made in this regard since our arrests in May 2009.
I am so very grateful to our attorneys, especially Tom Dixon, who threw themselves into our defense and fought it out to the end. This is a great victory for the truth—that human life is sacred. I hope that someday even Obama will know and embrace justice for the unborn. We pray, no matter what, that our own pro-life commitment will never waver."
Randall Terry's and a other few defendants' cases are yet to be resolved. They are represented by The American Center for Law and Justice. It is expected that their charges will also soon be dropped.
____________________________________________
Monica Migliorino Miller, Ph.D. Director of CPLS 248 444-9096
Attorney Tom Dixon –Lead Counsel for Defendants 574 315-6455
Attorney Tom Brecjha of the Thomas More Society 312 590-3408

---
Call your Representatives Now HR 3 No Taxpayer Funding for Abortion!
The House of Representatives scheduled to vote on this critical legislation tomorrow, Wednesday, May 4th, it is vital that you contact your Representative immediately and ask them to support this commonsense bill co-sponsored by pro-life rock stars, Reps. Chris Smith (R-NJ) and Dan Lipinski (D-IL).

Click here to send an email directly to your Representative, asking them to support the bill that would enact a permanent, across-the-board ban on the use of taxpayer dollars for elective abortions.
---
Abortionist in Indiana Opposed to Accountability
With help from Americans United for Life, attorneys in a northeast Indiana county secured a victory for those who believe that abortionists should be held accountable for endangering women's health and possibly their lives.
Denise Burke, a senior attorney with AUL and a recognized expert on regulating abortion facilities and providers, provided critical legal assistance to attorneys in Allen County, Indiana, as they worked to defend an important new law.
In 2008, local officials became concerned over reports that travelling doctors were putting patients at risk by performing medical procedures and then heading out of the area, leaving patients without critical follow-up care. In response to this continuing problem, Allen County passed a law that requires doctors to let patients know how to reach them or how to reach another doctor who can assist with follow-up care.
Although the law covers any physician traveling into Allen County to perform medical procedures, Dr. Ulrich Klopfer - an abortionist - was the only physician to challenge its constitutionality and applicability.
It is the height of hypocrisy for abortionists and abortion advocates to claim that abortion is simply a common, mainstream medical procedure and then seek to avoid medically-appropriate and generally-applicable rules and regulations designed to ensure patient health and safety, commented Burke.
Klopfer, represented by the American Civil Liberties Union of Indiana and the Center for Reproductive Rights, asked that the entire law be thrown out. The federal judge presiding over the case, while agreeing to halt a few minor aspects of the new law, ultimately allowed it to go into effect.
---
Pro-life groups laud decision to block embryonic stem cell research
Washington D.C., Aug 23, 2010 / 06:19 pm (CNA/EWTN News).- Pro-life groups lauded the decision of a federal court ruling on Monday which prevents the Obama administration from carrying out its embryonic stem cell research policy. One legal fund reacted by saying, the American people should not be forced to pay for experiments prohibited by federal law that destroy human life.
The ruling comes after the National Institutes of Health (NIH) issued new guidelines last year that permitted federal funding for research on stem cell lines that had already been created.
On August 23, however, a federal judge concluded that the policy likely violates a federal law known as the Dickey/Wicker Amendment. The amendment has been part of the annual appropriations bill for the Department of Health and Human Services every year since 1996.
The amendment bars federal funding for the creation of a human embryo for research purposes as well as for research in which a human embryo or embryos are destroyed, discarded, or knowingly subjected to risk of injury or death.
U.S. District Judge Royce Lamberth temporarily blocked the Obama administration on Monday from using federal dollars to fund expanded human embryonic stem cell research while a lawsuit against the NIH policy filed last year by the Christian Medical Association (CMA) and Nightlight Christian Adoptions proceeds.
Pro-life groups praised the ruling on Monday.
The Alliance Defense Fund, which helped represent CMA and Nightlight, saying that the American people should not be forced to pay for experiments prohibited by federal law that destroy human life.
The court is simply enforcing an existing law passed by Congress that prevents Americans from paying another penny for needless research on human embryos,continued ADF Senior Legal Counsel Steven H. Aden. No one should be allowed to decide that an innocent life is worthless.
Experimentation on embryonic stem cells isn't even necessary because adult stem cell research has been enormously successful, Aden said. In economic times like we are in now, it doesn't make sense for the federal government to use precious taxpayer dollars for this illegal and unethical purpose.
Family Research Council president Tony Perkins also weighed in on the ruling Monday, saying that the judge's decision was a stinging rebuke to the Obama Administration and its attempt to circumvent sound science and federal law, which clearly prohibits federal funding for research that involves the destruction of human embryos.
Rather than fund additional embryo-destructive research, the government should focus its resources on adult stem cells that are already improving health and saving the lives of patients with cancer, heart disease, diabetes, spinal cord injury and many other conditions, he added. There is great potential in this country for stem cell research and treatments for many diseases, while maintaining ethical standards.
Click here for the article and related links.
---
Obama Administration Forcing Belmont Abbey College to Abandon Faith Principles
The Obama Administration is working to erase respect for conscience from health insurance and the law in general
Don't believe me?
In his address at the University of Notre Dame, Obama talked a good game about respecting conscience on abortion rights. He did the same thing when he met the Pope. But that was all it was -- talk.
The Obama Administration's attack on Belmont Abbey College proves that.
Belmont Abbey College is a small, private, Catholic college located in North Carolina. For 130 years, it and the Benedictine monks who run it have been dedicated to handing on the Catholic faith.
But the Obama Administration is now trying to force them to abandon that faith or go out of business. You see, the Administration at Belmont Abbey College removed contraception, abortion, and voluntary sterilization from its faculty's health care policy after discovering it had accidentally been a part of existing plans.
Employees of the school who objected to this change in policy brought a complaint against the school accusing them of gender discrimination. This accusation against Belmont Abbey College couldn't be further from the truth. Belmont Abbey College was not discriminating against women. Unlike many believers in name only the college was adhering to the principles of its faith.
At first, the Equal Employment Opportunity Commission (EEOC) found no evidence of gender discrimination by Belmont Abbey College.. After a few weeks, the EEOC mysteriously reversed course and announced, in effect, that the college had better toe the Administration's line, or else. They are now demanding the school go against the very principles it exists to serve. Don't be fooled. Killing or funding the killing of unborn children has nothing to do with promoting human health. And including these atrocities in every health care plan -- no matter how shrewdly hidden or diplomatically stated violates the consciences of Catholics everywhere. No Catholic college or other religious institution should ever be required by the government to violate its moral beliefs ...
... Which is why I'm asking for your help today.
Your immediate support for the defense of Belmont Abbey College is VITAL, not only for Belmont Abbey, but for all religious institutions in America. Too many were silent when Obama went to Notre Dame. As a result his Administration has been emboldened to attack all Catholic institutions. Now, they are shamelessly picking on a small Catholic college Belmont Abbey.
Tomorrow it could be your local church, the parochial school you send your kids to, it could be the Jesus bumper sticker on your car. If Obama is given the opportunity to attack even the oldest and most respected religious establishments across the country, what will be next? The President of Belmont Abbey College has bravely stated that he would rather close the school than go against the church's most fundamental teachings ...I commend him for his moral conviction, but I'm afraid for the future of religious freedom in our country.
Think I'm overreacting?
The impact of even one Catholic college knuckling under or closing would be a catastrophe for all religious institutions. Which is why I am asking for your help. Will you stand with me against the Obama Administration's war on conscience. Luckily, the Belmont Abbey College has enlisted the help of a law firm that specializes in defending against this type of travesty. It's called the Becket Fund for Religious Liberty. The Becket Fund has a solid reputation for being the best in the business. I know first hand how effective the Becket Fund is in preserving our freedom of religion. I've known them for years. Way back in the Clinton Administration when Clinton threatened to court-martial military chaplains who followed their consciences by preaching against Clinton's veto of the Partial Birth Abortion Ban, it was the Becket Fund that filed suit in federal court and got that gag order struck down. And just this past week, when the Freedom from Religion Foundation sued to strike "under God" from the Pledge of Allegiance, it was the Becket Fund that intervened in the case and successfully defended the Pledge. In between they have successfully defended all sorts of believers and religious institutions.
Archbishop Chaput knows them well too. As he likes to say, The work of The Becket Fund for Religious Liberty is more than good. It's vital. By contributing to the Becket Fund, you can directly support religious freedom for Belmont Abbey and every other religious school or institution in the country. Make no mistake, this will not be easy. The Obama Administration is relentless about silencing religious believers.
Will you do me a personal favor, in the name of religious freedom, and contribute today -- to the Becket Fund for Religious Liberty's fight for Belmont Abbey College and for all other religious institutions? Time is of the essence. Belmont Abbey College stands for the moral teachings and principles of the Catholic Church -- it stands for life.
... You and I simply cannot allow the radical leftists in this country to succeed in demanding Belmont Abbey College turn its back on the most basic and fundamental teachings of the church or else close. Belmont Abbey President William Thierfelder recently said, "All of us need to have moral courage in today's world." He added. "We are so resolute in our commitment to the teachings of the Catholic Church that there is no possible way we would ever deviate from it, and if it came down to it ... we would close the school rather than give in ...
.... Will you exercise your moral courage and help me defend Belmont Abbey College with an urgent and immediate contribution of $500, $250, $100, $35, or whatever you can afford, to prevent religious freedom from becoming a thing of the past
I'm counting on you to act TODAY! Click here to act now!

God Bless,

Hon. Rick Santorum
United State Senator 1995-2007
---
Click here to get the latest news from the United States Conference of Catholic Bishops (USCCB).
Click here to take action and communicate with your Senators to ensure that the health care reform bill does not include any funding of abortion and protects the conscience rights of health care providers.
Click here to download the Urgent Memorandum highlighting USCCB plans and requests for diocesan and parish based activation on health care reform. It is critical that the Senate adopt the House-approved Stupak Amendment language that restricts federal funding for elective abortions and for plans which include elective abortions. This language, approved by the House by a large majority, ensures that Americans are not forced to pay for the destruction of unborn children as a part of needed health care reform. The Senate needs to address other essential moral priorities such as protecting conscience rights, making health care more affordable and accessible for
those without coverage, and ensuring that immigrants do not lose or will not be denied needed health care coverage.

For more information, please visit www.usccb.org/healthcare

Thank you for your advocacy!
Please pray for and reach out to Senators Bayh and Lugar and let them know your pro-life stance. Please be sure to include all life issues like those above not just abortion concerns! For we all know the value and sanctity of ALL life!
---
January 26, 2010

Dear Friend of Life,

There's a lot of anger across the nation at members of Congress who want to force you and all taxpayers to pay for the intentional killing of the youngest members of our human family as part of so-called health care reform.

You and many others have made your voices heard! And many legislators remain deaf.

But we can hold each member of Congress accountable for his or her actions!

And with your urgently needed help today ... WE WILL!

Just click here to be part of the pro-life revolution now sweeping the country!

Here's the situation as it stands today:
Polls continue to show the longstanding fact that the majority of Americans are pro-life! You and Priests for Life deserve a lot of the credit for bringing about that reality.
What's more, polls show that the vast majority of Americans oppose paying for abortions ... and yet Congress thumbs its nose at them.
America is still a republic. We still get to elect our representatives in Congress.
This coming November every single seat in the House of Representatives is up for election ... and a third of the seats in the U.S. Senate.
Priests for Life is going to use the anti-life provisions of the health care reform proposals to highlight the disconnect between America's pro-life beliefs and Congress' pro-abortion agenda.
At the same time, Priests for Life is going to convince your fellow Americans to take their pro-life values with them when they go into the voting booth this November 2.
That is our number one priority for this year, why I've sent you this urgent email ...

... and why I need you to click here and rush Priests for Life the largest gift you can.

It's going to cost Priests for Life $2,365,000 to carry out all of the actions we have planned for this year.

At the end of this email you will see a summary of those plans and what each section costs.

Of this much I can assure you:
If we are successful in our efforts this year, we will bring about the transformation of Congress needed to protect all human life ... especially the most vulnerable and helpless among us. Which again is why I need you to click here and send Priests for Life the largest gift you can.
Rest assured, however, that we are not sitting back waiting for you and others to help. Instead, knowing of your strong commitment to our pro-life cause and your deep desire to protect and defend the youngest members of our human family, I took a leap of faith and put these Action Steps in motion.
Even as you read this email, our Priests for Life Political Responsibility Teams are on the road working hard to increase the numbers of voters who, like you, will advance the culture of life in the voting booth.
One of the major elements of everything we do this year will be the recruitment of individuals who will volunteer their time to help register voters, hand out voter guides, go door-to-door with pro-life literature, man phone banks, write letters to the editor ... and more!
Your job between now and November 2 is to do whatever it takes to help Priests for Life convince voters of the vital importance to put the right to life first in every election!
Given the fact that taxpayers oppose public funding of abortion by a three-to-one margin, I expect our efforts to meet with tremendous success.
But those successes cannot and will not happen unless you and other members of our Priests for Life family continue to make the sacrifices necessary to provide us with the funds we need to carry out every single one of the Action Steps for 2010 Election that you can find at the end of this email.
I cannot overstate or over-emphasize the importance of the upcoming 2010 mid-term elections.
The radical pro-abortion position of Congress is clear for all to see.
This November, America will either reject that extremist anti-life agenda ... or embrace it.
Believe me the stakes are as high now as they were back in 1776 when our Founding Fathers signed the Declaration of Independence and made this proclamation before all the world:
We hold these truths to be self-evident, that all men are created equal, that they are endowed by their Creator with certain unalienable Rights, that among these are Life, Liberty and the pursuit of Happiness.
It is not by chance that the RIGHT TO LIFE is listed as the first of these unalienable rights.
As you and I both know, the RIGHT TO LIFE is the fundamental human right. It is the basis upon which all other rights proceed ... all of them!
That is why it is so vitally important that you and I and every other pro-life American do whatever it takes and make whatever sacrifice is necessary to protect and defend every person's unalienable RIGHT TO LIFE ... and most especially for our unborn brothers and sisters.
For the past forty years our nation has failed to meet that most basic responsibility.
Now, as a nation, we have reached the crossroads. We are at the same place the Chosen People were when God said to them:
I call heaven and earth to witness against you this day, that I have set before you life and death, blessing and the curse; therefore CHOOSE LIFE that you and your descendants may live.
That's the choice our country will make this November.
Those who are in control of the White House and Congress are determined to take us down the path that leads to death. Their policies make that abundantly clear.
Priests for Life is working feverishly to steer our country down the path that leads to LIFE.

But there is no way we can succeed without your immediate and constant help.
That said I implore you to do whatever is necessary including giving from your need to help Priests for Life convince our fellow Americans to CHOOSE LIFE!
So before you go on to your next email, click here and rush Priests for Life the largest gift you can send today.
But that's not all I need you to do.
From now till the 2nd of November, I need you to PRAY for Priests for Life ... for the members of our pastoral team ... for our Political Responsibility Teams ... for our bishops and priests ... for the clergy of every religious denomination ... for pro-life leaders and activists ... for our fellow Americans!
Pray without ceasing.
And I need you make real sacrifices and send Priests for Life the dollars we need to save our nation ... and I mean that literally! When God told the Israelites to CHOOSE LIFE that you and your descendants may live. He didn't spell out the alternative, but you can see what it was:
If you choose death, you and your descendants will die! Which means America as a nation will die if our fellow Americans choose death this November.
So right now, while you're still reading this email, click here and send Priests for Life the largest contribution you can!
Give us the dollars we need so that we can carry out our Action Steps for 2010 Elections and bring about a pro-life renewal in our government ... a renewal that will once again proclaim and defend the unalienable RIGHT TO LIFE for all Americans ... born and unborn!
And resolve to do this on a regular basis ... from today until November 2.
As the Action Steps for 2010 Election shows you, we need every dollar you can send so that we can carry out all the work we must do between now and Election Day 2010.
There is no greater good that you can do for the youngest members of our human family than by giving of yourself to defend their right to live.
So please set aside your needs and wants at this critical moment in history and click here to help provide Priests for Life with the funds we need to fulfill our God-given mission.
If you do this, and if your fellow Priests for Life family members do so as well, then I am confident that God will see our commitment to Him and reward us with VICTORY in November.
Again, though, it all starts with YOU ... TODAY ... RIGHT NOW.
And know that in humble gratitude for your help, all of the priests of Priests for Life remember you at each Mass that we offer. May God bless you for the sacrifices you make on behalf of His innocent unborn.

And if I may ask you one more favor. Each year I survey our supporters to learn how we can serve their needs more effectively. After giving your donation, would you take a moment and fill out the short survey I've placed at www.priestsforlife.org/survey. It is very important to me to know what you're thinking about our ministry!

Sincerely yours in Christ,

Fr. Frank Pavone
National Director, Priests For Life and Gospel of Life Ministries
Action Steps for 2010 Elections
We are not a sect fleeing the world, but a community of faith called to renew the earth.
- US Bishops, Political Responsibility
The mission of Priests for Life is to fully activate the Church, in all her dimensions, to proclaim, celebrate, and serve the Gospel of Life. Church teaching makes it clear that an integral element of building the Culture of Life is full and informed participation of the faithful in the political process.
With that mission clearly in mind, the following is an itemized list of the projects and activities that Priests for Life has planned for the 2010 election cycle.
1. Coordination of Leaders, Organizations and Churches:
Creation and facilitation of a Vote Pro-life coalition of leaders, organizations, and Churches which will assist groups to join together in common action, training, and communication related to the Elections.
The coalition will have a website and Facebook presence and likewise utilize other similar social networking sites.
We will train and activate tens of thousands of citizens through regular teleseminars throughout the year. These mega conference calls conducted simultaneously through phone and internet will bring panels of experts right into the homes of people eager to learn from them and implement their advice. Some will be especially for clergy and others for laity.
Estimated Cost: $55,000
2. Mobilization of the clergy:
Development and dissemination to every parish in America of pastoral resources for priests and deacons, including homily hints, bulletin inserts, general intercessions for Mass, outlines for special prayer services, and suggested activities for the congregation.
Development and dissemination of election-related material for clergy and laity to Churches of other denominations, through Priests for Life's close working relationship with other Christian groups.
Promotion of the interdenominational Nine Weeks of Prayer for the Elections (Sept. 1 to Nov. 2, 2010) at www.PrayerCampaign.org.
Use of our newsletter, which goes to every priest in the nation, to give them election-related resources.
Regular mailings, faxes and emails to all the parishes of the United States, giving priests, deacons, and lay ministers information on all the pastoral resources Priests for Life has. Our pastoral team will also make personal visits to parishes to meet with priests regarding the elections.
Communication and collaboration with the various respect life diocesan offices and state Catholic Conferences to foster more activity and dissemination of materials.
Inviting clergy to sign our commitment pledge of political responsibility, and then publicizing these pledges.
Providing bishops and pastors with summaries of papers presented at the Symposium of attorneys Priests for Life conducted some years ago on the topic The Church and Politics: Are We as Restricted as We Think These will show Church leaders that they can do far more to activate their people politically than they might think.
Translation of our election-related pastoral resources into Spanish, and distribution to pastors of Spanish-speaking congregations, through our Hispanic Outreach Department and collaboration with other Hispanic ministries nationwide.
Estimated Cost: $415,000
3. Media efforts:
TV spots on political responsibility for EWTN (reaching 90 million homes in the USA) and other Christian and secular outlets.
Radio spots on political responsibility for EWTN (reaching over 200 million) and other Christian and secular outlets.
Special radio and TV programs on political responsibility. These opportunities will be harnessed through our Defending Life series on EWTN, our Gospel of Life series on Protestant networks, and our many appearances on local media outlets.
Appearances of our pastoral team in the secular media, both local and national, as a result of our press conferences and frequent press releases.
Full-page newspaper ads in diocesan and secular papers, as well as in national publications.
Grassroots letters-to-the-editor campaign, organizing teams in specific areas whereby activists will help each other in composing and sending such letters, of which we will provide samples.
Distribution of our 6-part video series on Political Responsibility which contains interviews of Cardinals in Rome, well-known political figures in Washington, D.C., and top-level lawyers who will outline the boundaries of what those in the church and the non-profit world can do when it comes to political activity.
Estimated Cost: $1,550,000
4. General Education of Christians on their political responsibility and on the key issues:
Guided multi-media study on website, with staff prepared to answer questions by mail, phone, fax, email, text messaging, Facebook, YouTube, etc.
Travels and speaking of our pastoral team at parishes, seminars and conventions. (Six priests and five lay leaders, making an average of two trips per week. That's over a thousand trips!).
Collection and dissemination of the addresses, homilies, and pastoral letters of bishops who speak out about political responsibility.
Continued dissemination of thousands of copies of the US Bishops' document Living the Gospel of Life, along with our study guide for that document, as well as other Church documents about political responsibility.
Columns sent out several times each month to Catholic press, Christian publications, pro-life newsletters, and tens of thousands of individual subscribers.
Estimated Cost: $225,000
5. Internet Efforts
"Internet-blitz" activity, whereby teams of volunteers go into various blogs and discussion groups, raise issues pertinent to political responsibility, and point visitors to specific links that will give them helpful information.
Use of dozens of website domains related to political responsibility to spread non-partisan information on the candidates' positions on a range of issues.
A constant stream of videos concerning the elections will be broadcast on Facebook, YouTube, and a variety of other web-posting sites.
The Priests for Life website www.priestsforlife.org has a special Political Responsibility Center (www.PoliticalResponsibility.com) which provides visitors with everything they need to fulfill their mission as pro-life Americans ... including concrete action alerts, training materials, and valuable literature they can share with others.
Estimated Cost: $20,000 (including payment of webmaster)
6. Grassroots Effort and Get Out the Vote Work
At every place they visit, our priests will encourage those they meet to become actively involved in all aspects of the political process ... writing letters to the editor, manning phone banks, organizing voter registration drives, conducting get out the vote campaigns ... and more.
Outreach to the African-American community. This will be accomplished primarily through the travels and media work of our Pastoral Associate Dr. Alveda King and by wide distribution of the Maafa 21 DVD and the publicity generated from our 2010 Freedom Ride project.
Equip believers to exercise their right to vote through our Voter Registration Sundays, which we enable parishes and other organizations to undertake.
Through targeted communication in specific states, inform voters of registration deadlines, dates of primary elections, and early voting dates and requirements.
Reminding and equipping Churches to reach homebound parishioners with absentee ballots.
Volunteers will be identified and asked to help with distribution of literature during the weekends just before Election Day, and will be bringing people to the polls on Election Day.
Pre-recorded phone calls will be made just before Election Day to urge voters to get to the polls and to help others to do so.
Estimated Cost: $100,000
TOTAL Estimated Cost of 2004 Election Activities Budget: $2,365,000
PS One more reason we need your consistent financial support is because of the important work Priests for Life does to set the record straight about what the Church teaches on abortion and other life issues versus what self-proclaimed Catholic politicians say it teaches. The distinction many of them try to make between their public life and their private beliefs is absurd. Public servants are supposed to know the difference between serving the public and killing the public. No one has the right to kill an innocent human person! Period! If we are going to win our fellow Americans over to our pro-life position and steer our nation down the path that leads to LIFE, it is critically important that Priests for Life be able to refute the false teachings which pro-abortion politicians promote. And the only way we can do that is if you and other pro-life individuals make the sacrifices necessary to provide us with the funds needed to do that important work. So please do whatever it takes today to click here and send Priests for Life the largest gift you can. Thank you and may God bless you.
NOTE: If you prefer to send a check, please make it out to Priests for Life and send it to us at PO Box 141172, Staten Island, NY 10314. If you have any questions, call us toll-free at 888-735-3448 x232.
---
Susan B. Anthony List
March 21, 2010
Stupak Stripped of "Defender of Life" Award
Susan B. Anthony List Candidate Fund Pledges to Drive Out Pro-life Betrayers in November

WASHINGTON, DC - In response to Rep. Bart Stupak's announcement that he and other self-labeled "pro-life" Democrats will vote in favor of Healthcare reform legislation with the addition of an Executive Order from the White House to address concerns about abortion funding, Susan B. Anthony List Candidate Fund President Marjorie Dannenfelser offered the following statement:

"This Wednesday night is our third annual Campaign for Life Gala, where we were planning to honor Congressman Stupak for his efforts to keep abortion-funding out of health care reform-We will no longer be doing so. By accepting this deal from the most pro-abortion President in American history, Stupak has not only failed to stand strong for unborn children, but also for his constituents and pro-life voters across the country."

"Let me be clear: any representative, including Rep. Stupak, who votes for this healthcare bill can no longer call themselves 'pro-life.' The Susan B. Anthony List Candidate Fund will not endorse, or support in any capacity, any Member of Congress who votes for this bill in any future election. Now through Election Day 2010, these representatives will learn that votes have consequences. The SBA List Candidate Fund will work tirelessly to help defeat Members who support this legislation and make sure their constituents know exactly how they voted. We will actively seek out true pro-life candidates to oppose Members who vote 'yes' on this bill, whether it be in general or primary elections. For these Members, it will be a quick downhill slide to defeat in November."

"The executive order on abortion funding does absolutely nothing to fix the problems presented by the health care reform bill that the House will vote on this evening. The very idea should offend all pro-life Members of Congress. An executive order can be rescinded at any time at the President's whim, and the courts could and have a history of trumping executive orders. Most importantly, pro-abortion Representatives have admitted the executive order is meaningless."

Last night, Rep. DeGette told The Huffington Post, "If there was an executive order saying they weren't going to use federal funds in the bill to pay for abortions that would be fine with me."

Today, Rep. Wasserman Schultz admitted to Fox News' Megyn Kelly that "an executive order cannot change the law."

The United States Conference of Catholic Bishops pointed out today that "only a change in the law enacted by Congress, not an executive order, can begin to address this very serious problem in the legislation."
---
United States Conference of Catholic Bishops: Fix Flaws on the Health Care Bill or Vote NO
House leadership ignoring pro-life members for essential changes in the legislation
Won't even try to address the serious problems on abortion funding
Ignoring conscience protection and fair treatment of immigrants.
WASHINGTON,The U.S. bishops urged the House of Representatives to fix flaws in health care legislation or vote against its passage in a March 20 letter to House members. The letter was signed by Cardinal Daniel DiNardo of Galveston-Houston, chair of the Committee on Pro-Life Activities, Bishop William Murphy of Rockville Centre, New York, chair of the Committee on Domestic Justice and Human Development, and Bishop John Wester of Salt Lake City, chair on the Committee on Migration. The letter follows.
Dear Representative:

For decades, the United States Catholic bishops have supported universal health care. The Catholic Church teaches that health care is a basic human right, essential for human life and dignity. Our community of faith provides health care to millions, purchases health care for tens of thousands and addresses the failings of our health care system in our parishes, emergency rooms and shelters. This is why we as bishops continue to insist that health care reform which truly protects the life, dignity, consciences and health of all is a moral imperative and urgent national priority.

We are convinced that the Senate legislation now presented to the House of Representatives on a take it or leave it basis sadly fails this test and ought to be opposed. Why do we take this position, when we have a long record of support for health care reform Our fundamental objections can be summarized in two points:
Health care reform must protect life and conscience, not threaten them. The Senate bill extends abortion coverage, allows federal funds to pay for elective abortions (for example, through a new appropriation for services at Community Health Centers that bypasses the Hyde amendment), and denies adequate conscience protection to individuals and institutions. Needed health care reform must keep in place the longstanding and widely supported federal policy that neither elective abortion nor plans which include elective abortion can be paid for with federal funds. Simply put, health care reform ought to continue to apply both parts of the Hyde amendment, no more and no less. The House adopted this policy by a large bipartisan majority, establishing the same protections that govern Medicaid, SCHIP, the Federal Employee Health Benefits Program and other federal health programs.

Despite claims to the contrary, the status quo prohibits the federal government from funding or facilitating plans that include elective abortion. The Senate bill clearly violates this prohibition by providing subsidies to purchase such plans. The House bill provided that no one has to pay for other people's abortions, while this Senate bill does not. While the Senate provides for one plan without abortion coverage in each exchange, those who select another plan in an exchange to better meet the special needs of their families will be required to pay a separate mandatory abortion fee into a fund exclusively for abortions. This new federal requirement is a far more direct imposition on the consciences of those who do not wish to pay for the destruction of unborn human life than anything currently in federal law.

It is not those who require that the Hyde Amendment be fully applied who are obstructing reform, since this is the law of the land and the will of the American people. Rather, those who insist on expanding federal participation in abortion, require people to pay for other people's abortions, and refuse to incorporate essential conscience protections (both within and beyond the abortion context) are threatening genuine reform. With conscience protection as with abortion funding, our goal is simply to preserve the status quo.



Universal coverage should be truly universal. People should never be denied coverage because they can't afford it, because of where they live or work, or because of where they come from and when they got here. The Senate bill would not only continue current law that denies legal immigrants access to Medicaid for five years, but also prohibit undocumented immigrants from buying insurance for their families in the exchanges using their own money. These provisions could leave immigrants and their families worse off, and also hurt the public health of our nation.
Now, after a year of divisive political combat, members of the House are told that they can advance health care reform only by adopting the Senate legislation as is, including these fundamental flaws. The House leadership is ignoring the pleas of pro-life members for essential changes in the legislation. Apparently they will not even try to address the serious problems on abortion funding, conscience protection and fair treatment of immigrants.

We are bishops, not politicians, policy experts or legislative tacticians. We are also pastors, teachers, and citizens. At this point of decision, we cannot compromise on basic moral principles. We can only urge -- and hope and pray -- that the House of Representatives will still find the will and the means to adopt health care reform that protects the life, dignity, conscience and health of all. The legislation the House adopted, while not perfect, came closer to meeting these criteria. The Senate legislation simply does not meet them.

With deep regret, but clear in our moral judgment, we are compelled to continue to urge House members to oppose the Senate bill unless these fundamental flaws are remedied. At this critical moment, we urge Representatives to take the steps necessary to ensure that health care reform respects the life and dignity of all, from conception to natural death.
---
LIFE ISSUES FORUM July 23, 2010
For Immediate Release
Abortion Returns to the Health Care Reform Debate
By Richard M. Doerflinger
Congress passed the Patient Protection and Affordable Care Act (PPACA) in March, amidst an unresolved debate about the legislation's impact on abortion and conscience protection. As president of the United States Conference of Catholic Bishops, Cardinal Francis George explained then that the bishops had to oppose the final bill despite their strong support for health care reform, because (among other things) it appropriates billions of dollars in new funding without explicitly prohibiting the use of these funds for abortion. Others dismissed this charge, saying that legislative intent and a last-minute executive order from President Obama prevented abortion funding.

Fast-forward to July, when one of those PPACA provisions appropriating billions of dollars was about to take effect. Section 1101 of the Act provides $5 billion for high-risk insurance pools, providing much-needed health coverage for people with pre-existing conditions who cannot otherwise get coverage. This program ends in January 2014, when these patients can join others in purchasing qualified health plans on the new state insurance exchanges. State governments can propose the benefits list and other details for covering their residents in these pools, but the federal government makes final decisions and provides all government funds for subsidizing this coverage.

Pro-life groups found that several states beginning with Pennsylvania, New Mexico and Maryland had announced on their web sites that their statewide plans would include elective abortions. (New Mexico used the phrase openly; Pennsylvania said its plan would not cover elective abortions, but would cover abortions that are legal under the Supreme Court's decisions meaning any abortion an abortionist sees as needed for a woman's social or emotional well-being.) These plans were described as already approved, and New Mexico had already begun signing up enrollees.
Public criticism of this development prompted immediate denials and evasive responses. An initial response from the Department of Health and Human Services insisted that federal funds would not cover these abortions leaving open the prospect that everyone who enrolls could be forced to fund other people's abortions with their premium dollars. Late on July 14, however, HHS issued a new and more welcome response, saying that abortions simply will not be covered in these plans except in cases of rape, incest or danger to the mother's life, as has long been true in federally subsidized health plans for federal employees.

Now pro-abortion groups are crying foul, with the interesting complaint that this pro-life outcome goes beyond anything in PPACA or the executive order. In other words, they are saying the bishops' analysis of loopholes in these documents is right.
The high-risk pool program is just one funding stream left open to abortion by PPACA. For now it seems pro-life forces have won the first round, through careful research and a prompt public response. But PPACA needs a legislative fix to close such loopholes once and for all. That fix is offered by the Protect Life Act (H.R. 5111) sponsored by Rep. Joe Pitts (R-PA) and 115 other House members, including 13 Democrats. Whether these or other billions of dollars in taxpayers'funds are used to help kill unborn children is not a matter we should leave to shifting politics or to chance.
Mr. Doerflinger is Associate Director of the Secretariat of Pro-Life Activities, U.S. Conference of Catholic Bishops. To learn more about the bishops pro-life activities see www.usccb.org/prolife.
---
WHY AN EXECUTIVE ORDER IS UNACCEPTABLE
Nancy Pelosi and her allies are currently negotiating with key pro-life Democrats to try and secure their vote for their pro-abortion health care plan.

What's on the negotiating table?

A proposed executive order from President Obama that would allegedly bar abortion funding in the health care bill.

An executive order is an ineffective maneuver and completely unacceptable.

Here's why:

1. An executive order can be rescinded any time. President Obama could reverse it next week, next month, or next year. Should another pro-abortion president be elected in the future, it could be rescinded on inauguration day.

2. An executive order will not prevent insurance companies that provide abortion from participating in the exchanges.

3. Abortion funding in the health care legislation can be only be removed using the legislative process. An executive order not only doesn't fix the problem, it isn't needed to fix the problem, and could not stand a legal challenge. If Democrats are serious about protecting taxpayers from funding abortion in the health care bill, they must use the legislative process to fix the problem.
---
Major Victory in Senate Over Taxpayer Funded Abortion
Yesterday, a group of pro-life Senators led by Senate Republican Leader Mitch McConnell (R-KY) and Senator John McCain (R-AZ) banded together, leading an effort to block a Senate Defense-spending bill that would have opened the door for taxpayer-funded abortions on military bases. The 56-43 vote in the U.S. Senate fell four votes short of the 60 votes the bill's proponents needed to move it forward.

Dr. Charmaine Yoest, President and CEO of AUL Action, recognized McCain and his colleagues for outstanding work as they "led the fight to win today's key vote rejecting taxpayer-funded abortion in the military." The vote was a major setback for the abortion industry's agenda in Washington as its leaders fight to expand abortion without limitations and at any price.

"The momentum is on the side of Life," said Yoest. "We stopped taxpayer-funded abortion on military bases against overwhelming odds in the Senate. If one vote had gone the other way, the result would be different. That's why we must remain steadfast in our fight."

We've been updating you for weeks on our fight to stop the Burris Amendment to the Defense Authorization Bill, and - after yesterday - experts believe that this issue is now dead during this Congressional session.

"Our goal," Yoest told Bench Briefs, is to stop bad measures like the Burris Amendment. But we have a bigger goal too, which is to restore a culture of Life in America. If we are going to succeed, we'll need a different Senate next year - a Senate that respects Life."
National Review
and
The Washington Times
both featured opinion pieces on the Burris Amendment by AUL's Denise Burke this week,
click here
to read them.
---
FEDERAL ALERT -Markup Scheduled for HR 3
Support the No Taxpayer Funding for Abortion Act

On January 20, Representatives Chris Smith (R-NJ) and Dan Lipinski (D-IL) reintroduced the No Taxpayer Funding for Abortion Act (H.R. 3). The measure already has 208 other sponsors.
On February 8, the Constitution Subcommittee of the House Judiciary Committee held a hearing on H.R. 3. On Wednesday, March 2, at 10:00 am, the full Judiciary Committee is scheduled to markup the bill. Opponents of H.R. 3 are expected to offer amendments to weaken and defeat the measure.

For many years Congress has supported the policy that federal tax dollars should not be used for elective abortions. Each year many provisions must be renewed in law as part of the various annual appropriations bills to maintain this policy. The time is overdue to establish this policy in permanent law in all federal programs. To this end, on January 20, Representatives Chris Smith (R-NJ) and Dan Lipinski (D-IL), along with 160 other original co-sponsors, introduced the No Taxpayer Funding for Abortion Act (H.R. 3). This measure was first introduced in 2010 and enjoys bipartisan support.
In a January 20 letter to Members of Congress, Cardinal Daniel DiNardo, Chairman of the USCCB Committee on Pro-Life Activities, urged Representatives to support and co-sponsor H.R. 3. "While Congress's policy [on restricting funding for abortion] has been remarkably consistent for decades, implementation of that policy in practice has been piecemeal and sometimes sadly inadequate." The Cardinal cited the recently passed health care reform law as an example of why this legislation is needed. That law "contains at least four different policies on federal funding of abortion" in various sections; three of the policies are incompatible with the Hyde Amendment, and "each of them is incompatible with all the others."
See: nchla.org/datasource/idocuments/1.hr3letter21.11.pdf.
Your representative needs to hear from you! Click here to let them hear your voice!

---
Historic Pence Amendment to remove federal funding from Planned Parenthood passes in House Indianapolis, IN!
An amendment offered by Indiana congressman Mike Pence to remove all federal funding for Planned Parenthood in the 2011 budget has passed the U.S. House in a historic bipartisan vote of 240-185. Pence released this statement following the vote: "This afternoon's vote is a victory for taxpayers and a victory for life. By banning federal funding to Planned Parenthood, Congress has taken a stand for millions of Americans who believe their tax dollars should not be used to subsidize the largest abortion provider in America. "I commend my colleagues in both parties for taking a stand for taxpayers and a stand for life. I encourage my colleagues in the Senate to support this legislation and end federal funding of Planned Parenthood once and for all." The funding battle is not yet finalized as the measure will be subject to opposition in the Senate and from the White House. Indiana Right to Life is applauding Pence for his leadership and is encouraging the Indiana legislature to follow suit by passing House Bill 1205, a bill that will remove all state contracts and grants from Indiana abortion businesses.